Applying for a Social Security System (SSS) Salary Loan in Cebu
I was an employed individual. Until recently.
However, like most young professionals, I do not know how to access and enjoy the benefits of my membership with Social Security System or SSS. I always thought of my SSS contributions as a mere form of savings which I will enjoy when I reach retirement age.
Just recently, I felt the need to access some form of loan for a specific purpose which I will not disclose here. A former colleague told me of the SSS Salary loan. I thought that only the employed are eligible for this, but when I confirmed it with SSS, I found out that I can still access it provided that I had contributions for at least 36 months and if I still continue with my contributions voluntarily.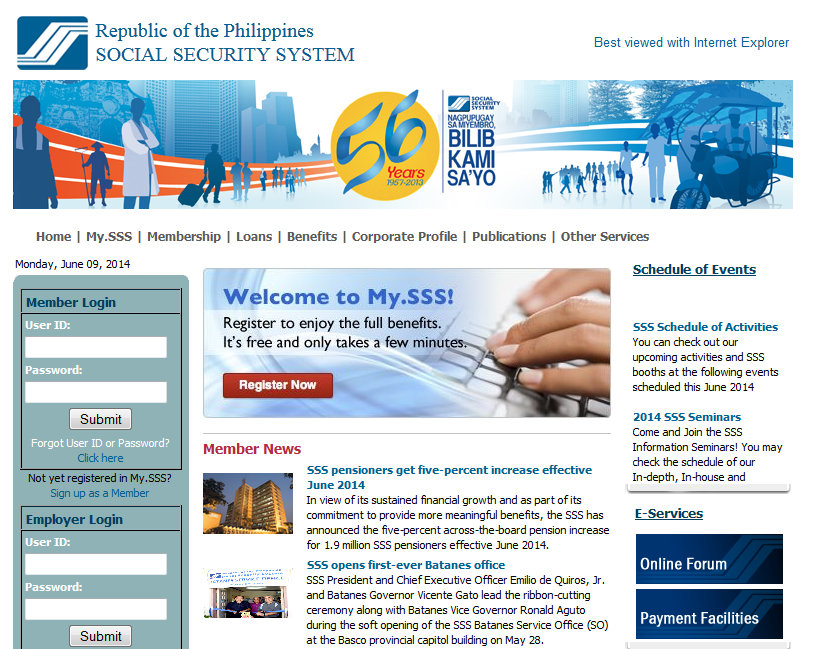 (screengrab from sss.gov.ph)
For everyone else who wants to avail of this loan, the following eligibility criteria should be met:



Only currently employed, currently contributing self-employed or voluntary member can access the salary loan program (In my case, I am a voluntary member)



If you want a one-month salary loan, a member must have at least 36 "posted" monthly contributions, six of which should be within the last 12 months prior to the filing of application. I stressed out the term "posted" since there are times that problems occur with the posting on your employer side. Better to check your posted contributions online regularly. You can register online to do this. You can also personally queue up in SSS, but it can be really time consuming to line up. Also, keep your pay slips for easy tracing.



For a two-month salary loan, the member must have at least 72 posted monthly contributions, six of which should be within the last 12 months prior to month of filing of application.



If one is employed, the employer must be updated in contributions and loan remittances.



The member-borrower must be updated in payment of his obligations for his other SSS loans such as calamity, emergency, education, stock investment, Member Assistance for the Develeopment of Entrepreneurship (MADE), and housing loans granted under the Unified Housing Loan Program (UHLP) or direct from SSS.



One shouldn't have been granted final benefit such as total permanent disability, retirement and death. 



The borrower should be under 65 years of age at the time of application.



Make sure you hadn't been disqualified due to fraud committed against SSS prior to filing.


If you think you are qualified, you may now gather the requirements which include:



A filled-up membership application loan



SSS ID


If you don't have your SSS ID yet, file for one, present the receipt together with 2 valid IDs, one of which must have your photo and signature in it.