Essential Tips for Tourists: SHOPPING in Cebu City
Let's face it, Cebu is not exactly the best shopping destination for luxury brands. However, if you are shopping for relatively cheap textile, clothes, guitars, mangoes, dried foods and even affordable (yet durable) shoes, Cebu has them.
Before you head out the door for your souvenir shopping spree, here are some things you need to know.
CLOTHING
If you are in Cebu around June to July or November to December, then there are greater chances of rain. However, Cebu is hot and humid the rest of the year. So, gear up.



Wear light clothing. If you have one of those absorbent, dry-fit shirts, then by all means, wear them. You will thank yourself for that.



Most of the Cebuanos are already used to wearing jeans despite the weather, so we really don't think much of it -- for us, jeans are comfortable even if it's already insanely hot outside. However, if you feel more comfortable in shorts, then go ahead.



Sleeveless shirts are okay. You'd see a lot of Cebuanos wearing arm-baring shirts. But please don't wear faded, overused and sleeveless shirts full of holes. Please.



Bring a cap and sunglasses. No, not LV caps and Prada sunglasses. 



Bring a handkerchief, just in case you need to wipe the sweat off your face.



Wear lightweight, comfortable shoes. You can wear slippers if you want but you might regret it when you're stuck in a crowded mall. People might step on your feet. You can go ahead and wear your Crocs, Cebuanos won't judge.



Leave your expensive jewelries and watches in your hotel room's safety box. LOCK them up.


SAFETY
Now the most important part. Safety is very important in Cebu. It is your responsibility to secure all your belongings because the police… well, let's just say that the chances your stolen goods will be recovered in Cebu are pretty slim.



Bring only a limited amount of cash. There should be safety boxes in your hotel, so lock up the rest of your belongings there – ESPECIALLY your passport and jewelries.



If you have one of those secure money pouches that can be tucked under your shirt, then it would be prudent to use them.



If you plan to stash your money inside your handbag, always mind your bag. Make sure it has a zipper too. 



Never place your bag on the seat next to you or behind you. Don't leave it on the table either. Thieves could easily snag it and run away with it. Place it on your lap, where it is more secure.



Don't snap pictures using your expensive smartphone carelessly. Again, the thieves are lightning-swift. You wouldn't even know what the heck just happened.



Hide your smartphone and don't use it in open places, as much as possible. I know your GPS is really handy, but when in Cebu, just take precautions and buy a map. Better yet, write down directions – or maybe even find someone you know who can show you around.



DSLR cameras are fine. Wear them around your neck and be careful to check if the ridiculously expensive lens is still there from time to time.



IMPORTANT: With the emergence of contactless payment, anyone can steal your PayWave credit/debit card and use it. Your signature and ID is no longer required. So be really, really careful where you stash your card. Better yet, leave it inside your hotel room's safety box. You won't need your card if you are bargain hunting anyway.


TRANSPORTATION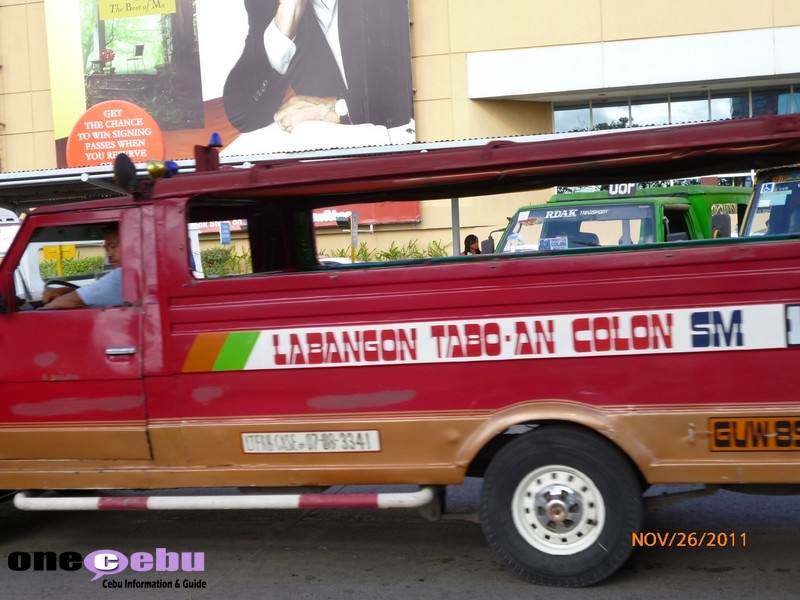 A jeepney in Cebu City
If you know someone in Cebu who can drive you around, then you're lucky. For those who don't, then a private tour vehicle is the safest bet. Or, take a cab. Do not take the jeepney. You may want to just to "experience" an authentic jeepney ride in Cebu – but take this from a local, it isn't worth the risk. As a foreigner, you'll be at the robbers and thieves' crosshairs.
Now you have to be careful when riding a cab too. Not all cab drivers are jerks, but there are a few bad apples out there:



Fares go by the meter. Period. The flag down rate is P30 (used to be P40 but dropped to P30 in March 2015). If they refuse to go by the meter, get out immediately. 



You don't need to tip. Tipping is not a requirement, but they are appreciated.



Be careful where you board. Make sure you hail a cab at a safe location. Don't risk getting ploughed over by a wayward jeepney.



Lock the taxi doors once you are inside, especially when there is a trafffic jam.



Before you alight, look around to check if you left anything behind.


WHERE TO SHOP
The safest place to shop would be at the
malls
. Cebu has two big malls – Ayala Center Cebu and SM City Cebu (and the soon-to-open SM Seaside). Prices there are fixed and no haggling is required. You can also find global brands there such as Timberland, H&M, Marks & Spencer, Sperry and Mango. Try Ayala Centre and SM's department stores – the goods and wares are cheaper compared to boutiques. There are also souvenir sections inside the department stores where you can find guitars, seashell accessories, locally-made clothes and so much more. The prices are relatively more expensive though compared to purchasing direct from the manufacturer or shops not within the mall.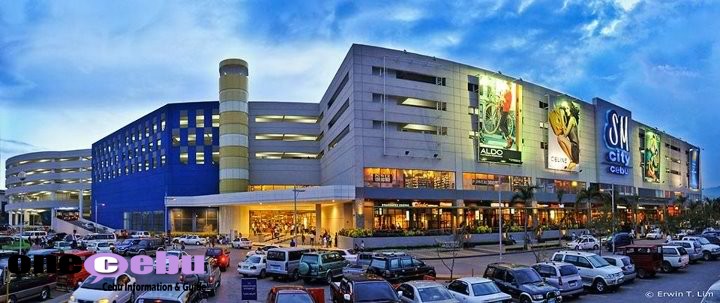 SM City Cebu
There are usually sale events at the end of nearly every month (payday).
Guitars
: If you want to purchase directly from the manufacturer or from reputable shops, there is a cluster of them in Mactan Island. Ask the cab driver to take you to
Pajac-Maribago
road where most of the guitar vendors are located. Prices range from P2,000 to P20,000.
An assortment of guitars on display
Clothes
: For affordable clothes, go to Tabo sa Banay located in
Manalili Street
just behind Gaisano Metro Colon. Yes, it is in Colon. The items are cheap but the quality is hardly anything to brag about. BUT, you can haggle and get an even better bargain!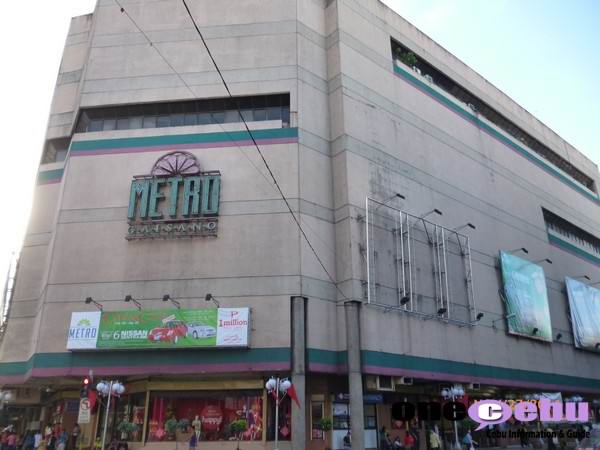 Tabo sa Banay is located right behind Metro Gaisano Colon
While in Colon, take the opportunity to look around. But be cautious. There are a lot of trinkets and cheap goods there. Do not buy mobile phones in Colon though.
Foods:
If you want local delicacies at cheaper prices, you can go to
Tabo-an Market
. They sell all sorts of dried goods there, hand-made jewellery, mangoes, fruits and all sorts of local-pastries such as otap (sugary biscuits) and rosquillos (flower-shaped cookies). You can haggle here too.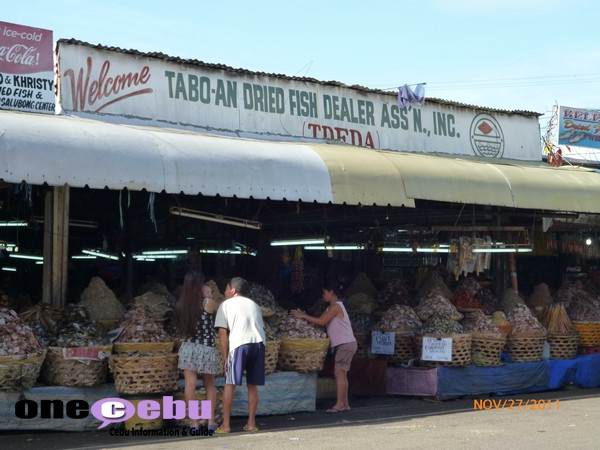 You will find lots of dried goods in Tabo-an. Best  you drop by early in the morning.
Footwear:
For good quality, yet affordable footwear, Carcar is the place to be. However, Carcar is roughly 2 hours south of Cebu City (estimates include possible traffic jam in Minglanilla and Talisay area). If you do decide to go to Carcar anyway, why not take the opportunity to try their
chicharon
(fried pork rinds)?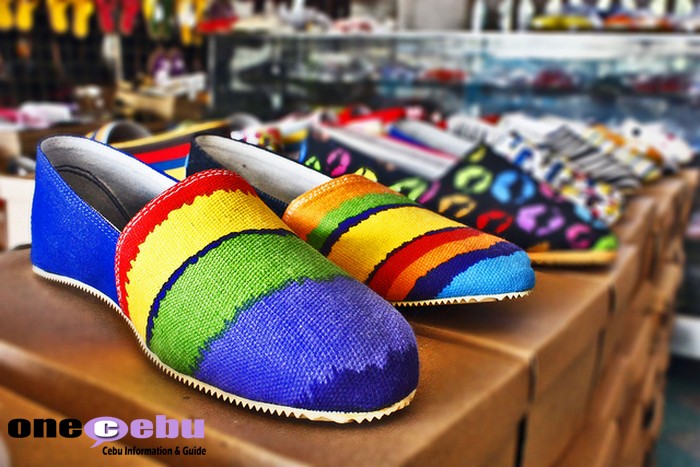 Pretty, colorful and relatively durable shoes in Carcar
Anything you wish to add to the list? Please feel free to comment.