Review: Willer's Chicken BBQ, The Best in Cebu!
The streets of Cebu are flanked one after the other with chicken BBQ stalls and shops. I have found the best of them. Willer's Barbecue has been a
household name
(in ours anyway) since the 70's. My dad says he's been a patron since Willer's daughter was still a young student, fanning the coals to heat them up while studying or doing her homework. Now, Willer has passed on to that big barbecue grill in the sky and his sons, daughter and grandchildren are currently continuing his charcoal legacy.
Finding this little stall/eatery can be very tricky. They have moved from their original location along Gorordo Avenue in Lahug. So if you see a Willer's there, it's not the one I'm talking about. It's a version that a distant relative has "franchised." Ask for the original. If you're coming from IT Park or JY Square Mall, go just a little further down the road, until you see a Jollibee and Metrobank on your left. Make a left into the tiny road beside the bank. It goes a little uphill. Follow it until you can see Willer's Barbecue on your right. I think it's the 2nd or 3rd stall from the corner.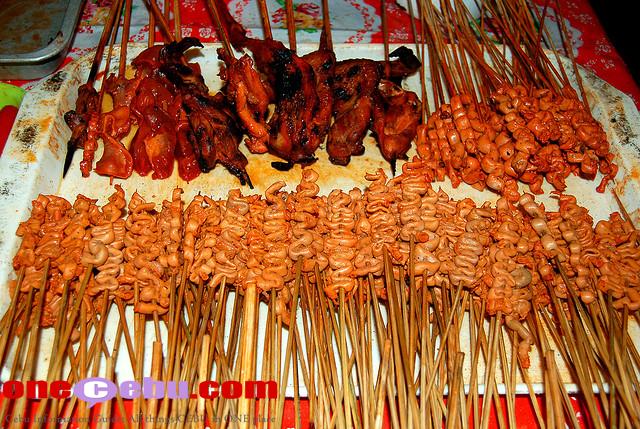 Willer's serves lunch and dinner, but I don't recommend eating there. There's limited space so when you come out, you'll smell of smoke. Better to order take-out for dinner. They pack the food in brown paper bags for you to take home. The chicken is marinated in their homemade secret sauce. Then once it is half-cooked, it's rubbed with another family secret, their dicer (homemade BBQ sauce) and placed on the grill to finish cooking. They only grill it when you order, so that it's nice and hot for you. It takes around 10 minutes to grill this tender, juicy, flavorful bird. The puso is bigger than my fist. Their vinegar is a must-have! It would be a crime to eat the chicken BBQ without dipping it in their house vinegar. It's got its own distinct flavor, tangy with just the right amount of heat. You can't get this anywhere else, not even the franchised version of Willer's. My favorite to order is the chicken skin. It's to die for! Swear! It's rich in artery-clogging cholesterol and grilled to carcinogenic perfection! But you'll forget all that once you've dunked it in their vinegar! Yum! Everything is grilled, and everything is good! Amazing, despite the price range.



Grilled fish (anduhaw), P30 each



Chicken BBQ, P25 each



Chicken liver, P22 each



Chicken skin, P22 each – UGH! THE BEST!



Puso (GINORMOUS hanging rice), P5 each


I spend P855 to feed my big family of five. Can't beat that!
TIP: If you're going for take-out, just bring a big platter and some aluminum foil to cover it up and keep it hot. It's good to go at 6:00 or 6:30pm as there is not much traffic and you can get it home in time for dinner. Lunch time is always a busy time.
Photo courtesy of
saekhow
.