A Returning Filipino Quarantined at BAI Hotel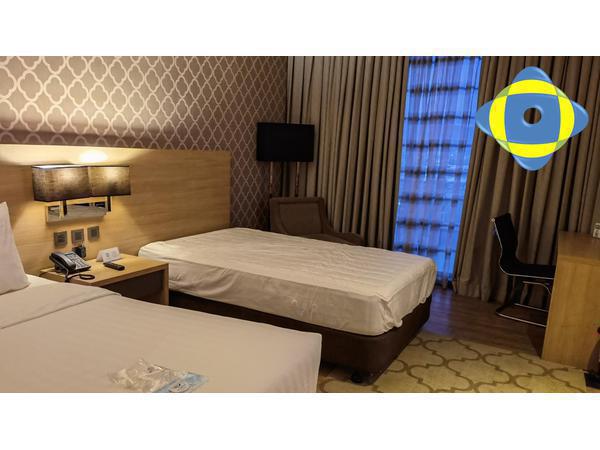 The Assigned Quarantine Room at Bai Hotel
I've stayed a couple of times at BAI Hotel pre-pandemic and I've generally been impressed by the level of service – from reception, café, room service attendants, and concierge services. There is still room for improvement, but all in all, I couldn't have asked for a better hotel to be quarantined in.
GUEST SUBMISSION. DO NOT REPRODUCE WITHOUT THE AUTHOR'S PERMISSION.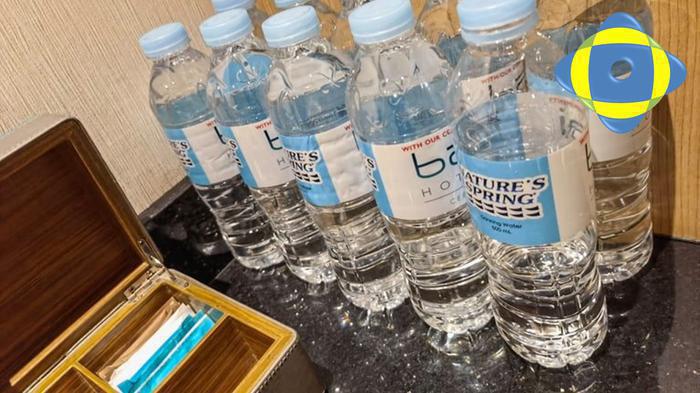 10 bottles of 500ml water in your room
The circumstances are different now. I'm on a mandatory 10-day quarantine. I braced myself, expecting a watered-down version of their usual "service with a heart", naturally because they are operating on a limited capacity and on a skeletal force. However, I was pleasantly surprised to see that they still delivered despite the current limitations, especially with their stringent health and safety protocols.
THE ROOM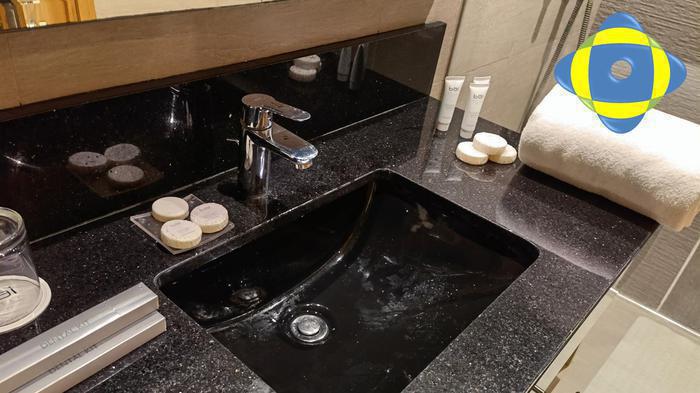 After the whole room assignment, registration, and briefing procedure, I was escorted to my assigned room. It was clean (less the noticeable dust and dirt under the bed and near doorframes -- small stuff), the briefing sheet says that the room is already sanitized and furnished with basic toiletries (toothbrush and toothpaste, soap, shampoo, toilet paper, coffee sachets, tea bags, and 10 bottles of 500 ml bottled water. There's also a chiller, kettle, and cable TV. Decent WiFi is also provided. The connection is one of the best, in fact. Way better than most hotels in Cebu. I had a Zoom meeting with the Hong Kong team on my second day. No freezing screens, no lags. So yeap, pretty good.
For the safety of the staff, I do not expect the linens and towels to be replaced daily. According to their House Rules, fresh linen and bathroom amenities will be provided every five days, which is perfectly understandable considering the circumstances.
On Day 5, I waited for fresh bathroom amenities. None. So, I called up the operator and requested for toilet paper and trash bags. I didn't mention the toothbrush, soap, shampoo, or replenishment coffee sticks, thinking that this would naturally be part of the replenishment. It is stated in the House Rules, after all. But because I didn't request for any, they didn't deliver those either. Oh well, just a small bump.
Three toilet paper rolls, 3 shampoo bottles, and 2 sets of toothbrush and the mini toothpaste that comes with it wouldn't last 10 days. If, however, you ask for replenishment, they would gladly deliver the items to you in a jiffy (insert heart emoticon).
On Day 6, housekeeping delivered a fresh batch of bed linens and a new towel. Take note that for your own safety, you will have to replace the bed cover and pillowcases yourself. I particularly appreciated how the Bai staff wouldn't step into your room at all. +100 safety points for Bai.
THE FOOD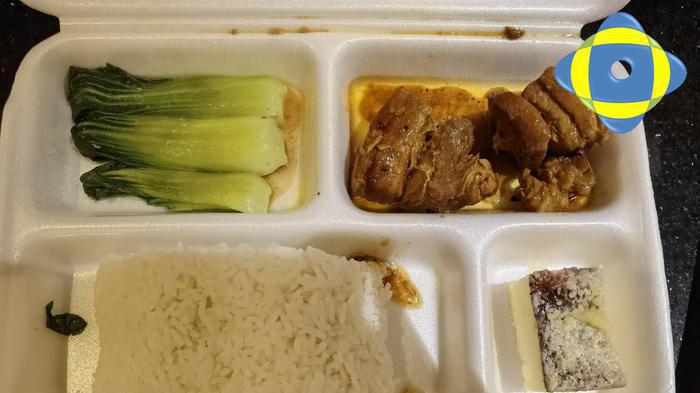 First Meal Served (Lunch for Day 1)
Food was served three times a day. And quite frankly, there is a LOT of food. The servings were larger than standard servings.
The variety of dishes is impressive. 
I could just imagine all the effort put into the meal planning (to avoid menu fatigue), nutritional evaluation, supply chain management, the preparation, the food safety precautions, food temperature control, preventing cross-contamination, handling sensitive ingredients and allergens, and the logistics of meal delivery (including taking note of which rooms have specific dietary requirements).
Is the food good? Heck, YES. I don't especially enjoy pork, but I have to admit, their dishes are really tasty. It's hard to say no to the super crispy lechon kawali served in a styro box. And my new fave, the pinoy chorizo.
All the meat dishes, so far, have been tender. Even the beef. Desserts vary from small cakes to fruits. Each meal is served with a bottle of drinking water.
The meal timings are supposed to be:
Breakfast at 6AM
Lunch at 12 Noon
Dinner at 6PM
However, this isn't always the case. On some days, your food may be served later (the latest was an hour later than scheduled). But on most days (YAY!), your packed meal may delivered an hour earlier than expected. I promise you though, you won't starve here. I normally get too stuffed to consume the desserts, that I store them in the chiller for later.
Operationally, it is not an easy feat. Bai is doing its best, and that is quite apparent. Bai Team, know that you are appreciated.
GUEST RELATIONS
Assistance is available 24/7, with a variety of channels to reach them. WhatsApp, Viber, or simply dial "0".
Do they really assist you? Yes. They will assist you; I guarantee you that. It may not be immediate but they will do their best to make sure that your requests are met.
I requested for help to purchase a few essentials but made sure that the staff know that I am willing to wait. I know that they're on skeletal force, and there are lot of guests currently housed at Bai. I eventually got my items (my fault for not being prepared enough) after a follow up call. There is, however, a service and transportation fee of P450. A small price to pay for having someone help purchase your items for you.
If you need trash bags, toiletries and the like, Housekeeping is exceptionally quick to assist. Service spirit is ingrained in Bai Hotel's collective core, which is quite evident throughout my stay.
HOUSE RULES
Take note of the following House Rules:
·        "No Mask, No Face Shield, No Entry" policy. Masks and face shields are required to be worn at all times outside the guest rooms.
·        Physical distancing of at least 1 meter is strictly enforced in all common areas including the elevators.
·        Guests are strictly prohibited to go out during the duration of the quarantine period.
·        Outside food are not allowed.
·        Smoking is not allowed in the room. A penalty of P10,000 is imposed in violation of the local government's Executive Order.
·        Meals will be delivered outside your room on the following schedule: 6AM, 12NOON, 6PM.
·        Unconsumed meal must be disposed of daily to eliminate insects and pests.
·        Daily pick up of trash. Please bring out your trash bag after dinner. A new set of trash bags will be provided.
·        Fresh linens and bathroom amenities shall be provided every 5 days. Wet and dry soiled linens must be put on separate plastic bags and kindly leave outside your room for collection.
·        For ease of process, send a copy of the swab test result to the email address provided in the Hotel Briefing Sheet.
·        For OWWA concerns, you may email or SMS the contact details provided in the Hotel Briefing Sheet.
·        For those who have not received their swab test result, you may also follow up in the email and phone number provided in the Hotel Briefing Sheet.
Final Thoughts
It would have been better if new trash bags were provided daily. That way, we wouldn't have to keep asking. Also, it is reasonable to deliver a fresh set of bathroom amenities on Day 5. 3 rolls of toilet paper, 2 toothbrush sets (with tiny toothpaste tubes), and 2 bottles of shampoo will not last longer than 5 days, methinks.
All in all, the experience has been really pleasant. If anything, I would like to commend Bai's sous chef and food services manager. They did a wonderful job!
FYI, on Day 9, Bai will ask you to sign an information invoice. The total billed amount will be under OWWA's. However, Bai will ask you to sign a a line that states that you will be "personally liable for the payment"of the amount billed if the company (OWWA) does not take responsibility for the payment.
Another FYI, please follow the house rules and refrain from having food delivered to the hotel. The safety of the guests is important. It is such a small sacrifice to make to ensure that all of us are safe. We're in this together. And Bai, thank you for making our stay as wonderful as it can possibly get.
SHARE IT