Weekend Dinner at Café Sarree
I finally get off work on a Saturday afternoon when it begins to rain. I had planned to hear Mass at Cempark at dusk then get some burgers with Ze boyfriend at Burger Joint. But my date's mood was dampened by the downpour, so we changed our plans and decided to have a quiet night in. Thankfully, the rain stopped and his mood brightened up. He told me that he would take me to this café I've been wanting to try.  I was excited!
Café Sarree is found in Escario Central, N. Escario St., Cebu City. It is owned and managed by its gorgeous Chef Sarree. You can tell how passionate she is about cooking by the liitle touches she has put into the décor of this cozy café. It has minimal floor space, for a more intimate feel. But there is a second floor with more seating that I think is more appealing. There are also tables outside if you wish to dine al fresco. On the ground floor, is a display of freshly baked pastries. Here you will be greeted by her very pleasant and attentive staff. Tables are enough for a couple or small family. Up on the second floor is the washroom and some seating for bigger parties. On the wall are photos of the chef, her family, and her culinary adventures.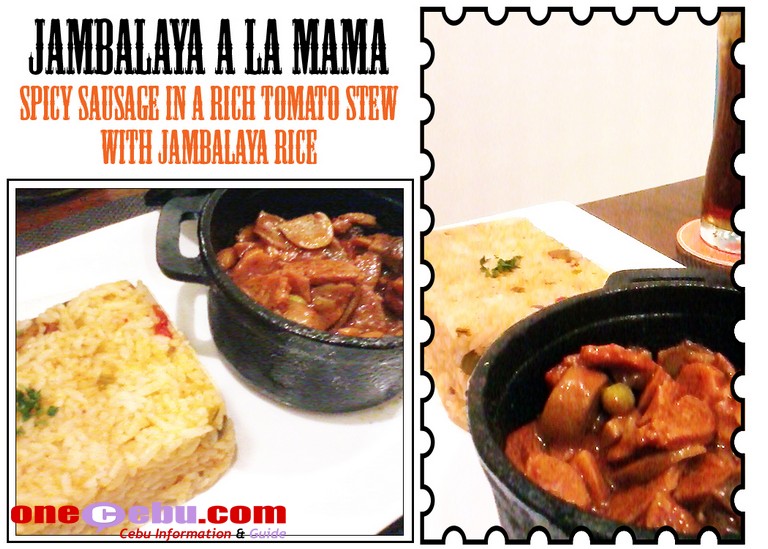 The menu is very simple; mostly comfort food, familiar food that she has put her stamp on. Our attendant was kind enough to suggest their specialties. To start, Liver Pate and Cranberry Jam (P180) or Mushroom Soup (P180). For the main course Lamb Adobo (280), or Adobo Flakes (P220). As good as they might be, I'm not and adobo person. So we decided to order on our own. We asked to start with the Gambas Al Ajillo (P180). I ordered the Jambalaya à la Mama (P210), and Ze boyfriend got the White Fish Ranchera (P255). Sorry there's no photo of the last dish. It smelled so good Ze boyfriend just dove into it before I could take a photo. It's cream dory topped with tomato sauce that's infused with heat and aromatic herbs. We didn't really have to wait long to be served – probably a good ten, fifteen minutes. The strange thing was, our Gambas arrived and before I could finish taking the photo, so did our mains. Were they rushing us? I just let it slide. In fairness, the food was kept hot because they were all served to us in tiny cast iron pots. I think this is very clever, not to mention pretty adorable. The Gambas had really good flavor but wasn't as hot as I would've wanted, despite being served in the cast iron pot. The pots are tiny but the portions are actually perfect for a light dinner. My Jambalaya was super yummy! So much flavor! I loved every morsel. Ze boyfriend loved his fish. It was light on the belly but heavy in taste.
I had a really good time there. And because we had a light dinner, I'm thinking of going back another time to try some of the other interesting dishes I saw on the menu… especially 'cause the prices are remarkable reasonable. One can probably spend on the average, P200 per dish. Not bad!
Café Sarree is open Monday thru Saturday from 8AM to 10PM. Breakfast is served ALL DAY but the rest of the menu is available from 10AM-10PM. It's a great place to have guilt-free good eats! So try it out now.
[bg|cafesarree]