Essential Tips for Tourists: Pedestrian Lanes and Navigating Cebu City by Foot
One of the things we need to highlight, before anything else, is that pedestrian crossing (you know, those zebra-stripe crossings that are supposed to be visible to motorists to ensure safety of the pedestrians?) is a non-existent concept for most of Cebu's motorists. Pedestrian crossings may have existed more than 2,000 years ago, but the purpose is often lost here. Maybe at some point these motorists wondered what these stripes are for. Are they there to break the monotony of concrete? To add pizzazz? Who knows.
So, important tip time: Cross pedestrian lanes only where there's a traffic light. And even when you do so, be careful.
Here are a few important tips to help you navigate Cebu's roads without losing a leg:
1. Rule of the Road: The Philippines is a
right-hand traffic country
. That means, when you cross, you look to your LEFT first and then to your RIGHT.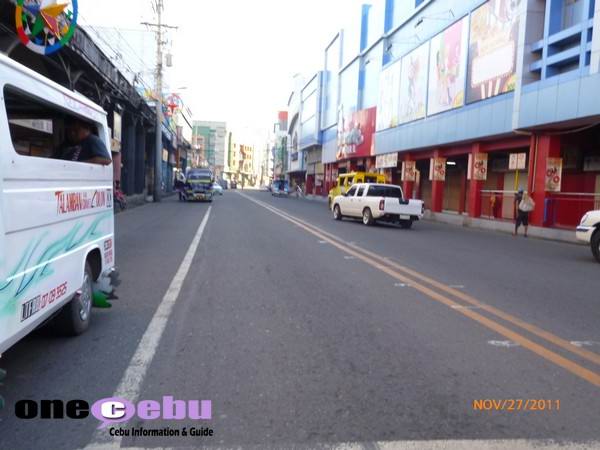 The Philippines is a right-hand traffic country. Image of the not-so-busy Colon Street early in the morning.
2. You may find a lot of Cebuanos
jaywalking
. Years of experience have deemed them experts on the field. Do not emulate. Cebu City has a chock-full of skywalks (or pedestrian overpass). Take the longer route to get to the other side of the road. Or find the nearest pedestrian crossing with traffic lights.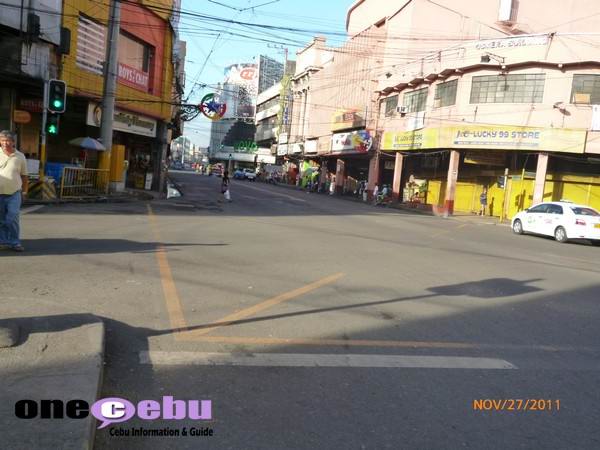 Spot the jaywalker in this picture.
3. Do not mill around Colon Street and rural areas alone. In the same vein,
don't walk around Cebu at night
just to be on the safe side.
4. Cebu is either wet or dry. Oftentimes, it is hot and humid. To avoid fainting and (God forbid) heat stroke,
keep yourself hydrated
and wear light clothing.
5. Some roads
don't have sidewalks
. Why? Because sidewalk vendors have occupied the space where the sidewalk is supposed to be. Be extra careful when you traverse the thin demarcation between the sidewalk and the road.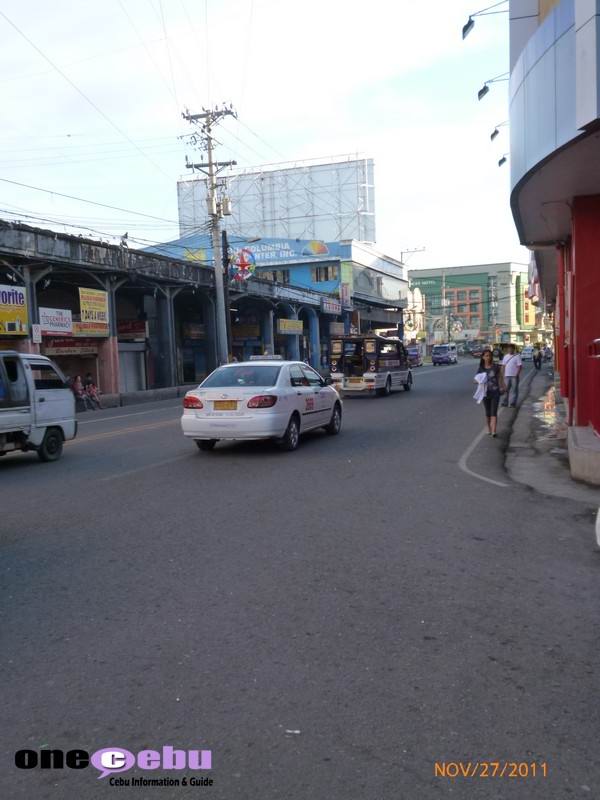 See how these people are not taking the sidewalk?
6. You will find buildings being constructed without proper "
safety/hard-hat area
" warnings. You know the risk.
7.
Manholes
. Some of them are not covered up. Although they will most likely be fenced up to ensure nobody falls into them. So watch where you're going.
8. You will rarely see
hassling touts
in Cebu City (which is a good thing). But if you do see one, and they annoy you to no end, just curtly tell him or her that you are not interested in their merchandise. Then walk away quickly.
9. However, you are sure to spot a couple of
beggars
while you're in Cebu. The Philippines has an
Anti-Mendicancy Law
(Presidential Decree No. 1563), although this is not strictly enforced. According to the Decree, "mendicancy breeds crime, creates traffic hazards, endangers health, and exposes mendicants to indignities and degradation."
Be aware that some beggars (children too) are part of an organised crime. We've personally witnessed beggars throwing food donations because they prefer money.
10. Finally, remember to always
leave your valuables at your hotel room's safety box
. Do not walk around Cebu with expensive gadgets, jewelries and the like. In addition, always keep a close eye on your purse. Refrain from using backpacks.
*Cover image: "Crosswalk in Burnaby British Columbia Canada" by Flying Penguin at en.wikipedia - This image was created by me, Flying Penguin of Pacific Spirit Photography ([email protected]) of Burnaby, British Columbia, Canada. Transferred from en.wikipedia.. Licensed under CC BY-SA 3.0 via Wikimedia Commons.