Whale Watching at Tanawan, Oslob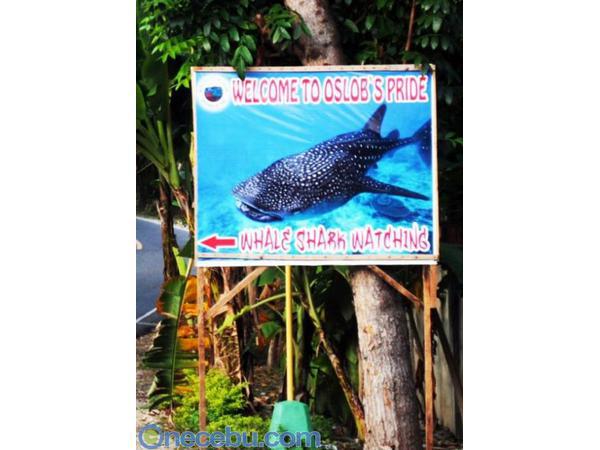 Source: OneCebu.com. One of the many signs to point you in the right direction.
By now, nearly all Cebuanos may have heard of the butandings (whale sharks) in Oslob, Cebu.
The whale sharks can be viewed at Tanawan, Oslob. Don't worry about getting lost as there are quite a number of signboards the line up the side of the road.
More of this series: The Best of Cebu's Cities and Municipalities
Show All
How to get there?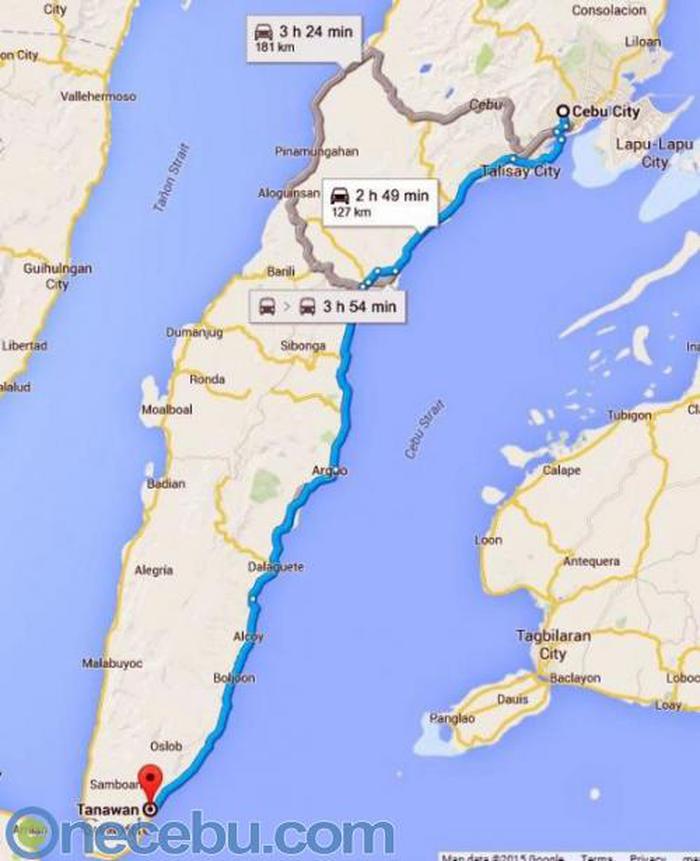 Source: OneCebu.com - This is how far you have to travel to get there.
Tanawan, Oslob is 127 km away from Cebu City. If you drive your own vehicle, it may take you roughly 3 hours to get there (depends on your speed and cautiousness).
You can also get to Oslob by taking a bus at Cebu South Bus Terminal beside Elizabeth Mall (E Mall). These large buses have signboards, but when in doubt, ask the driver or the conductor. Taking the bus will mean longer travel time, roughly 4 hours, as the bus makes quite a lot of stops.

Bus fares usually cost between P150 to P155, the airconditioned buses, of course, being more expensive. The earliest trip is at 1am.

TIP! When taking public transportation, make sure you secure all your belongings and refrain from wearing expensive jewellery. 
What should you bring for the trip?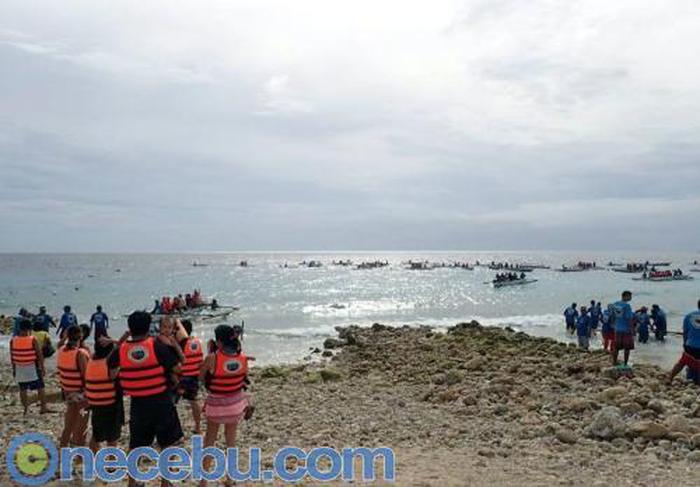 Source: OneCebu.com. You will need to wear lifejackets. Don't worry, this will be provided on-site.
It would be safe to assume that you will only travel on a sunny day, so, pack light clothes, towels, swimwear (if you intend to swim with the whale sharks), hat and sunglasses. If you have a waterproof camera, then don't forget to bring it too! However, you can rent a waterproof camera with SD card at Tanawan for P550.

TIP! Please note that you are not allowed to put on sunscreen if you intend to swim with the whale sharks.
What is the whale shark watching schedule?
You can only view the whale sharks from 6am to 12:30am. There are already queues as early as 6am during peak season (March, April, May and December).

It is open every day for the entire year except on Good Friday.
How much is the entrance fee? What if I want to swim with the whale sharks?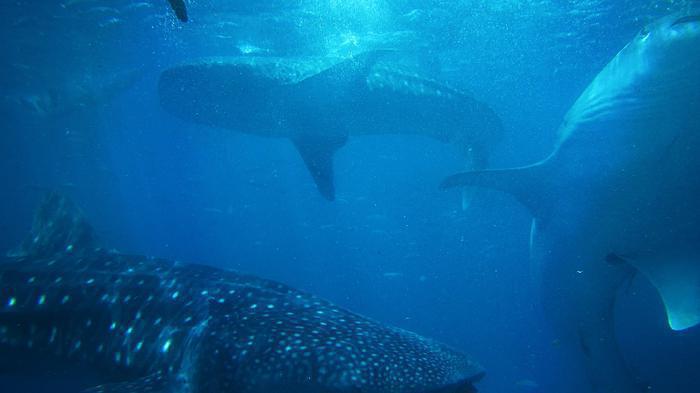 Source: Wikipedia
The entrance fee is already inclusive of the boat ride. There is no need for tips.

If you are a Filipino but not an Oslob native, whale watching would cost you P300. If you're a foreigner, P500. An insider told me that Oslob natives can go in at special discounted prices.

Whale watching plus snorkelling and swimming with the whale sharks for Filipinos is P500. For foreigners, it's twice the price at P1,000.

TIP! There are no phone or online reservations and this is on a first come, first served basis only.
Take Note of the Guidelines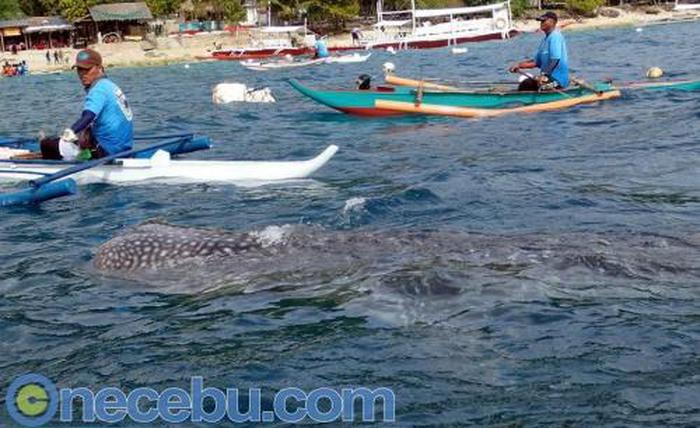 Source: OneCebu.com
Before you go out to sea on your boat, you will have to undergo a few minutes of orientation on the guidelines and regulations of whale shark watching:
All whale shark watchers must undergo orientation at the Briefing Center (just a small, open-space waiting shed near the beach) on the rules for interaction with whale sharks
No feeding of whale sharks by unauthorized personnel
Do not touch, ride, or chase a whale shark
Do not restrict normal movement or behavior of the shark
Do not use flash photography
Do splash around when entering the water.
Do not wear sunscreen if you are going to enter the water.
Motor boats are prohibited in the area. Only paddle boats are allowed.
Viewing is limited to 30 minutes
Maintain a minimum distance of 5m from the head, 6m from the tail (this differs from the 2m from the head, and 5m from the tail stated in the ordinance)
Swimming with the Whale Sharks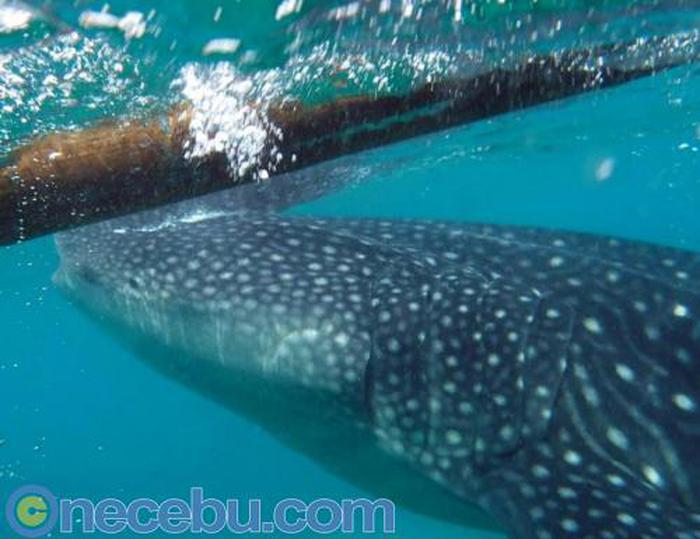 Source: OneCebu.com. Big fella moving closer to the "banca"
After you pay the fees and attend the orientation, you may either wait at the waiting shed (Briefing Center) or stand by the shore. Once it's your turn to ride the boat, an authorized personnel will hand you a life jacket and teach you how to secure it. You will then be lead into the boat.

Once the boatman has paddled into a safe distance, he will point to the direction where the whale sharks are. Those who paid to swim with the whale sharks can now descend (slowly) into the ocean. Remember, you should not make a splash when going in.

There are fishermen constantly feeding the whale sharks, so you could be smart and just follow the fisherman's boat.
If you're taking your underwater camera with you, remember to turn off the flash or you will be fined. You only have 30 minutes to swim with these gentle creatures so take it all in and enjoy the sight.
Undertandably, you'd be hungry after your little adventure. Luckily there are quite a few restaurants along the road to and from Tanawan. I have to warn you though: the prices of the dishes are a little steep as they are sold by eateries in a "prime tourist location".
More of this series: The Best of Cebu's Cities and Municipalities
Show All
Tourist Attractions South of Cebu: The Famous Oslob, Cebu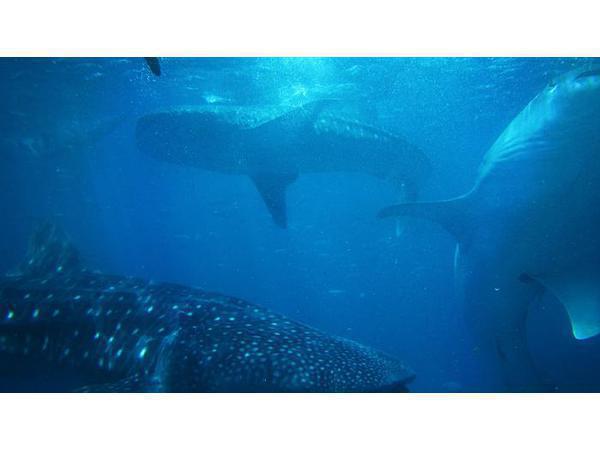 Source: OneCebu.com
The town of Oslob was founded in 1848 and consists of 24 barangays. Oslob is home to the second highest peak in Cebu which rises above 2,600 ft. or 800 MASL (Meter Above Sea Level).
Continue reading...
Tips for Tourists Series: 5 Essential Items You Need for Your Oslob Whale Shark Watching Trip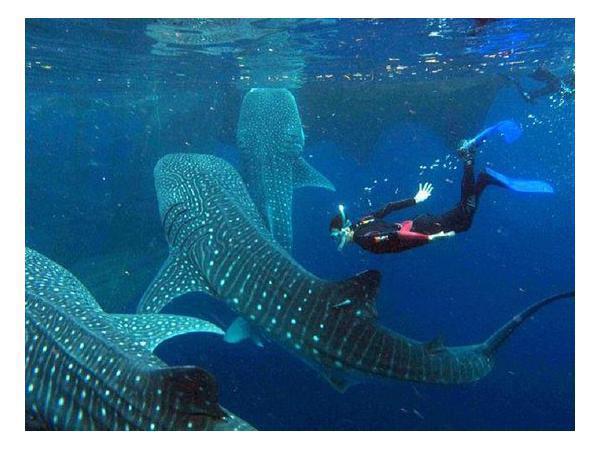 Source: TripAdvisor
A lot of tourists and locals flock to Oslob to swim with the whale sharks ("butandings").
Continue reading...
Part I - The Best of Cebu's Cities and Municipalities - Oslob, Moalboal and Samboan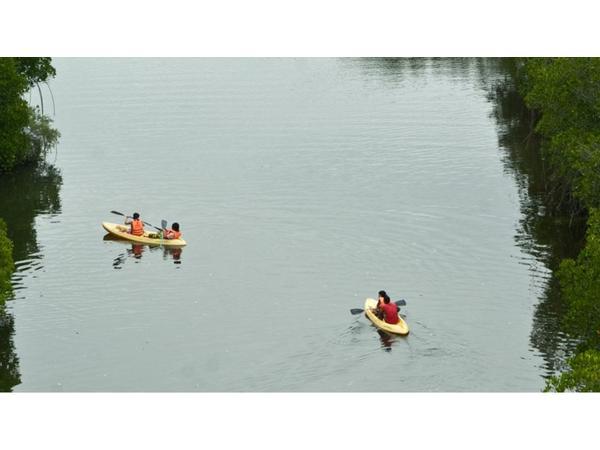 Source: http://www.bluewatersumilon.com.ph
No doubt that Cebu has become one of the top destinations here in the Philippines.
Continue reading...
SHARE IT