24 Hour Jollibee Stores in Cebu City
Although KFC's chicken pieces are bigger and crispier and McDonald's friend chicken are thicker and crunchier, I will always go looking for Jollibee's food fares.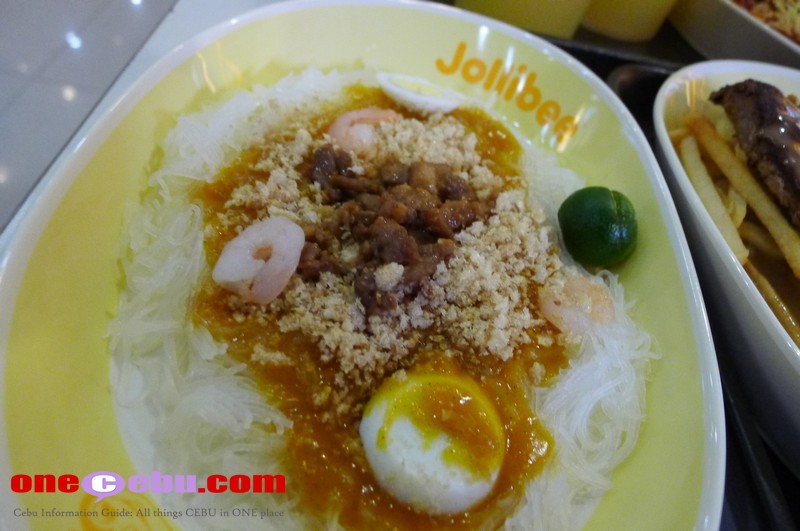 The question is why? Is it because memories of Jollibee are almost always happy ones? Is it because of their advertising? Or is it because I'm pinoy and the taste is perfectly suited for the pinoy palette?
I read an article in Philippine Star, dated April 15, 2013 about Jollibee's famous Chickenjoy being found to be the best tasting fried chicken in Singapore compared to these other fast food chains: KFC, Popeyes, Texas Chicken and 4Fingers. The tasters said that the meat is flavorful.
Whatever the reason, Jollibee has long become an icon of Filipino fast food culture. If you have not tried Jollibee yet, I recommend that you start with the popular Chickenjoy. Slather it in lots and lots of gravy! One-piece Chickenjoy meal starts at P80, including regular fries and drinks.
You can also try their Jolly Spaghetti meal for P74. The pasta, however, is not al dente. It tastes more like pre-packaged noodles. But the meat and sauce is pretty good. Try their Palabok too! You could not get more Filipino than that.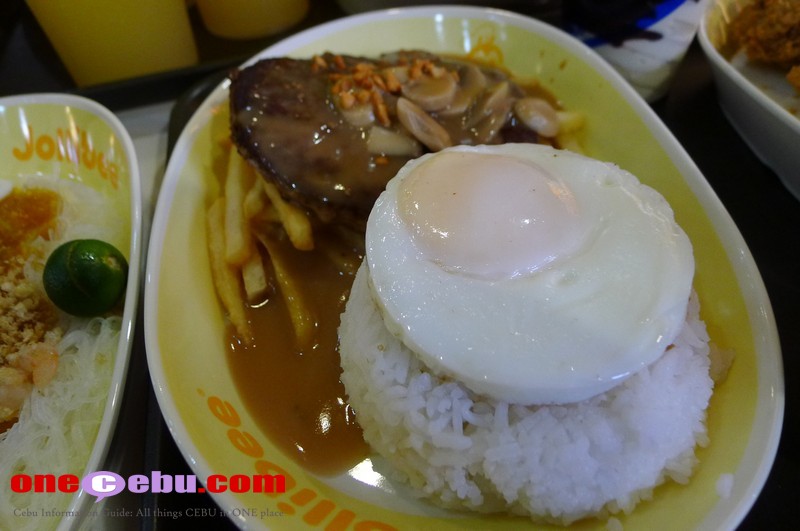 Jollibee also offers lumpia shanghai meals and burger steak meals. Burger steak is not actual 'cooked the way you like it' steak, by the way. It is just burger patties covered in mushroom sauce and served with rice.
In Cebu City, Jollibee has a lot of stalls nearly in every corner. You know there's at least one in every mall too.
Now, you don't have to worry about late night Jollibee cravings because Jollibee has opened a number of 24 hour stores. If you're working graveyard or looking for a place to hang out after chilling at a club, go to 24-hour Jollibee stores in the following areas: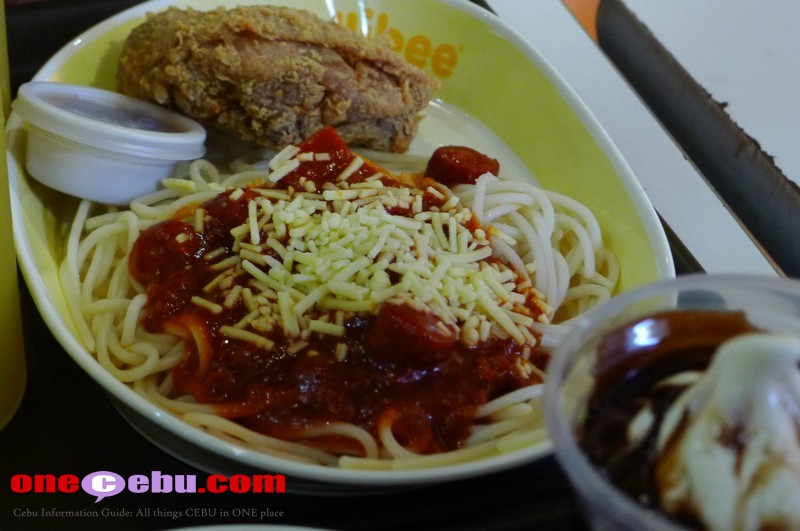 Jones
Arlington Road cor. Osmeña Blvd., Cebu City
Tel. No. (032) 255-3228
Business Hours:
Weekdays: 24 Hours
Weekends: 24 Hours
Services: Breakfast
Cebu Gorordo
Gorordo cor. Gen. Maxilom Avenue, Cebu City
Tel. No. (032) 232-43-42 / Fax 233-4615
Business Hours:
Weekdays: 24 Hours
Weekends: 24 Hours (except Sunday 5:00 AM to 12:00 MN)
Services: Breakfast, Delivery
Lahug
119 Gorordo Avenue., Brgy. Lahug Cebu City
Tel. No.: (032) 232-3800/ 232-3700
Business Hours:
Weekdays: 24 Hours
Weekends: 24 Hours
Services: Breakfast, Drive Thru
Bulacao Cebu
Cebu South Road, Bulacao Cebu City
Tel. No. (032) 273-1199
Business Hours:
Weekdays: 6:30 AM to 11:00 PM
Weekends: 6:30 AM to 11:00 PM
Services: Breakfast, 24 Hours
F. Cabahug
F. cabahug st. Mabolo Cebu City
Tel. No.: (032)238-9600/238-9700
Business Hours:
Weekdays: 24 Hours
Weekends: 24 Hours
Services: Breakfast, Party, Delivery, Drive Thru
Cebu Mango Avenue
Mango Avenue cor. Juana Osmeña, Cebu City
Tel. No.: (032) 254-2268
Business Hours:
Weekdays: 24 Hours
Weekends: 24 Hours
Services: Breakfast, Party, Delivery, Drive Thru
Cebu Guadalupe
cor. V. Rama Ave. & R. Duterte St. Guadalupe, Cebu City
Tel. No.: (032) 254-97-54 / 254-9712
Business Hours:
Weekdays: 24 Hours
Weekends: 24 Hours
Services: Breakfast, Party, Delivery
24 Hours
Asiatown
12 point IT Park, Salinas Drive, Lahug, Cebu City
Tel. No. (032) 236-8216
Business Hours:
Weekdays: 24 Hours
Weekends: 24 Hours
Services: Breakfast, 24 Hours