Review: The Port Seafood Restaurant in Cebu
If you are looking for an affordable, delicious all-you-can-eat buffet in Cebu, The Port Seafood Restaurant is one of those that will immediately come up on top. They are open daily from 11:00 a.m. to 2:00 p.m. for lunch and 6:00 p.m. to 12 mn for dinner.



If you are planning to go there on Public Holidays, better call them up at 2317441, 2326888 or 09173006888 to know if they are open on that specific dates.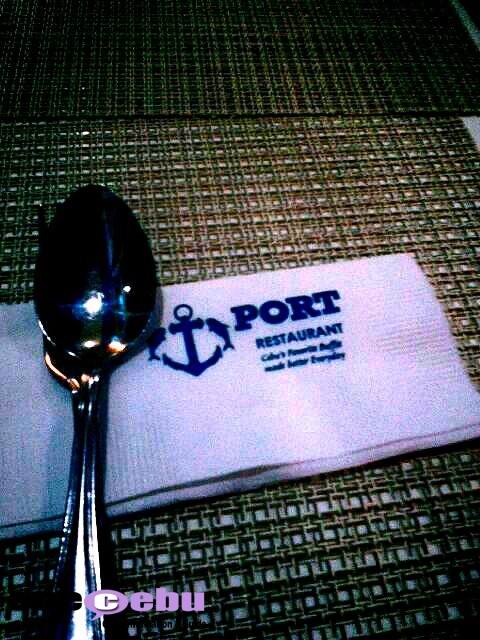 Location

The Port Seafood Restaurant is located right beside Waterfront Cebu City Hotel and Casino at Salinas Drive, Lahug, Cebu City. A buffet-style, all-you-can-eat establishment, you will find lots of seafood, whether grilled or fried, pasta, Filipino specialties and desserts.



Buffet Prices

The Port offers lunch and dinner buffets, with the following prices:

P199.00 for lunch buffet

P299.00 for dinner buffet



Excluding drinks. To be honest, their dinner buffet offerings are more varied than their lunch buffet spread.



Ambiance and Accessibility

The area, for me, is one of the safest there is in Cebu. There is also ample parking space so you need not worry about your vehicle. If you are taking a taxi, the taxi can drop you off right in front of the restaurant.



If you are taking a jeepney, however, be prepared to walk a little bit further along lengthy entryway going to Waterfront Cebu City Hotel. No jeepneys can go inside Waterfront, mind you.



The Service

The attendants are very nice. They will usher you to your table and then ask for your drinks of choice. Do note that the drinks range around P30 to P90. They have a bottomless iced tea option which is a very good idea especially if you are eating buffet-style.



I did notice that the attendants were very chatty with each other, though. Not that I did mind.



The Food

I went there for dinner with a couple of friends. For P299, the spread was okay. Not exactly Marco Polo or Raddison Blu, but it is enough. The first table contained salads and greens with various dressing. Ravenous as I was, I went directly to the meat and carbohydrates spread.



For the pasta, they have a choice of penne (tube-like pasta), spaghetti and fusilli (screw-like pasta). For the sauces, you can choose from carbonara or the usual spaghetti-style sauce. I chose penne with carbonara sauce.





Don't take from the bowl, by the way! There are cooks who will heat up the dish for you. My next choices were bangus and sizzling squid. Again, the cooks will have to grill this for you and serve it to your table. For the sizzling bangus, I would give it 3 out of 5 stars and for the squid, 4. The bangus wasn't as tasty as I imagined it to be. Kind of bland actually. Disappointed, was I. Squid tastes much like any other tasty squid so I was happy. The serving was quite small maybe so there won't be leftovers. If you want another platter, you can always order another serving and they will cook it up for you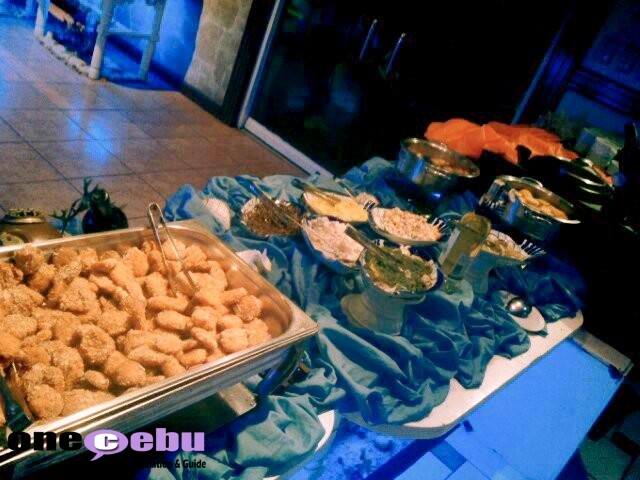 Then I tried bits of lumpia shanghai, breaded chicken and sweet and sour fish. The breaded chicken was so delicious! Something like my grandma would cook. I was also a fan of the fish with its soft breading and tangy sauce. The lumpia shanghai was a bit tough. Like something that has already been on display for hours. I believe there were no takers as the container was still quite full. They also have thousand island dressing and coleslaw in case you want to try different sauces.



I did not get a picture of the buko pandan I had for dessert. It was so cute, served on small glass cups. It was actually just the right taste for me. Not too sweet.



As it is an all-you-can-eat establishment, I can't exactly remember everything I tried. But I do tell you this, TRY their sizzling dishes. Bangus, squid and prawns.



They also serve rice, if your are wondering and at times they do apparently serve bihon. Although when I went there, no bihon or pancit was in sight.



For payments, they accept cash, Visa, Mastercard and AMEX. We paid with Cash with roughly P1,200 all in all for three persons. Makes sense as the three of us ordered the bottomless iced tea.



I would definitely go back there again.