Typhoon Ulysses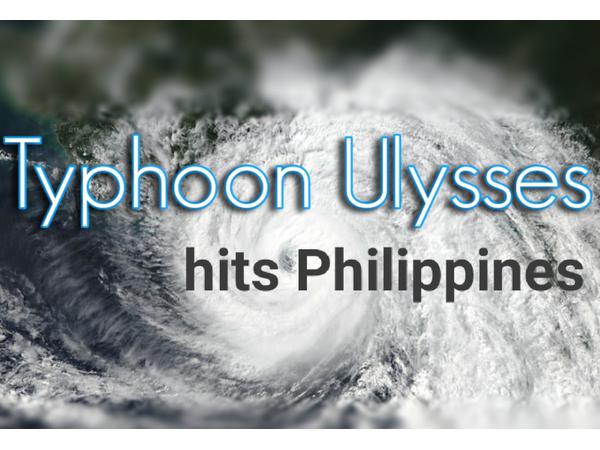 Typhoon Ulysses brought heavy rains in Metro Manila, Central Luzon and in the National Capital Region causing extreme floods and rockslides. It originated as a tropical depression in the Northwest of Palau, and first seen by Japan Meteorological Agency (JMA).
November 8 at 10 pm, PAGASA declared a Low-Pressure Area developed into a tropical storm. It was named "Ulysses". The next day, it intensified and continued to move over the Philippine Sea in the northern westward.
The National Disaster Risk Reduction and Management Council (NDRRMC) sent out emergency alerts to mobile phones and used them to alert citizens under Signal #3. Meanwhile, Phivolcs ( Philippine Institute of Volcanology) also issued lahar warnings for Mt. Pinatubo and Mayon Volcano for possibilities.
On November 11, it became a Typhoon and the first landfall was in Patnanungan, Quezon. November 12, it made its third landfall in General Nakar, Quezon at 1:40 am. It was classified as a Category 4-equivalent typhoon, the 10th typhoon and the 25th storm named as of 2020. 
The Magat Dam in Ramon, Isabela had to open seven gates to release large amounts of water because waters are already near their spilling points. The water was estimated to be 5,037 cubic meters or 1,331,000 US gal resulting in extreme floods in Cagayan Rivers. Floodwaters reached roof houses, infrastructure, and agricultural damages. Power Outages were experienced in some areas. The National Irrigation Administration said that they already warned residents of Cagayan and Isabela of the water release two days before landfall. They also said that they will improve watershed and review protocols regarding the water released.  
November 12, the local government officials asked help from the National government in the form of airlift and Philippine coast guards to evacuate the families stranded on roofs. In response to the typhoon, Luzon has been put into the State of Calamity.
The latest report from NDRRMC as of November 19, there were 73 deaths, 19 missing and 24 injured. There were 3,052,049 affected individuals from different barangays, Armed Forces of the Philippines (AFP) and Philippine National Police (PNP) rescued a total of 370,189.
Days passed, some victims of the typhoon returned to clean their houses and muds from floods. The pandemic has not ended but another tragedy has come but Filipinos never give up!  People from all over the world are giving donations to help, as well as the government.
Sources:
m.wikipedia.org
pna.gov.ph
cnnphilippines.com
dost.gov.ph
SHARE IT