A Look Back at Manny Pacquiao's Best Fights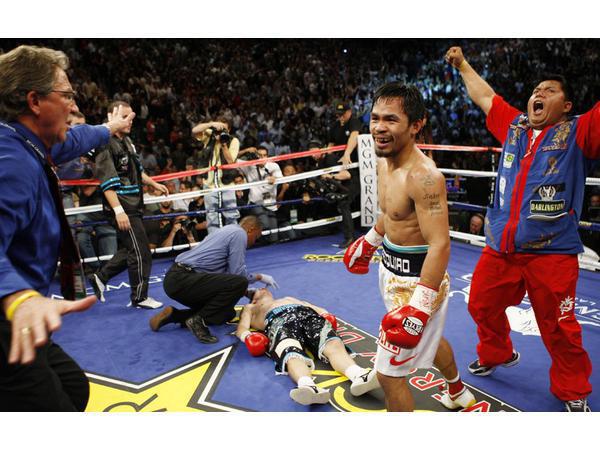 Source: Reuters
No traffic jam, with crime rates dropping significantly – Manny Pacquiao still hasn't lost his influence among us, Filipinos.
In spite of his political gaffes, we stood (sat) united to support him as he fought Argentine fighter, Lucas Matthysse, at the Axiata Arena in Kuala Lumpur, Malaysia, last Sunday, July 15.
Now that the dust has settled, let's take a look at the top 5 fights of Pacquiao's boxing history.
Pacquiao vs Cotto, November 2009
MGM Grand Garden Arena in Las Vegas
Miguel Cotto, an elite fighter, was barely recognizable after a 12th-round TKO. Manny's speed and strength was at full display and Kenny Bayless had to call the fight off 55 seconds into the last round.
Source: Boxing Now, YouTube
Pacquiao vs Margarito, November 2010
AT&T Stadium (formerly known as Cowboys Stadium), Dallas
Antonio Margarito, 17 lbs heavier, lost to the Pambansang Kamao's power and speed. Pacquiao went on to become the only fighter to date to win world titles in 8 different divisions.
Source: Jeff Jackson, YouTube
Pacquiao vs Hatton, May 2009
MGM Grand Garden Arena in Las Vegas
We all know how this went. Ricky Hatton, with the numerous memes circulating the internet, errr… passed out after Pacquiao knocked him out twice in the first round and one last time in the second. It took Pacquiao 5 minutes, 59 seconds to KO Hatton. Hatton was never the same after that fight.
Source: Nothing But Boxing, YouTube
Pacquiao vs Barrera, November 2003
Alamodome in San Antonio, Texas
Pacquiao's first fight with the great Marco Antonio Barrera gave him the traction that he needed to boost his career. Pacman stopped Barrera in the 11th round. Barrerra was one of the world's most elite fighters at that time, while Pacquiao was still on the rise, barely known internationally. His beatdown of Barrera was considered to be Pacquiao's coming out party.
Source: MrJ24
Pacquiao vs De La Hoya, December 2008
MGM Grand Garden Arena in Las Vegas
Oh boy, did we save the best for last. Oscar De La Hoya, the Golden Boy, the Hall of Famer, a revered fighter, and an Olympic Gold medalist – had his ass whopped by Pacquiao, who at that time was still on the rise. Pacquiao went on to dominate eight rounds. The blow was too devastating for De La Hoya that he retired shortly after the fight.
Source: Chris Metler (HBO Sports), YouTube
SHARE IT