Review: Little Saigon Big Bangkok in Cebu
Cebuano culture has been influenced by our neighbors from Indonesia, Malaysia, China, Korea, Japan, Thailand, and Vietnam. Because Cebu has long been an international hot spot for trade and commerce, Cebuanos have developed a taste for other Asian cuisines.
Latest hit
There's a new kid in town. It has become one of my favorite places to have Vietnamese & Thai food, most especially because it's
more casual and prices are lower
than the other Vietnamese/Thai restaurants in the city. I'm talking about
Little Saigon Big Bangkok
. It is family- owned and operated by a local chef and her Fil-Am husband.
Take me there
The restaurant is actually an ancestral home that was converted. Locals know it as the former Couples for Christ Center. It is found along
Andres Abellana St. in Guadalupe, Cebu
. If you're coming from the Capitol site in Cebu, take the left to M. Velez Street into Guadalupe and go straight until you reach an intersection with a Jollibee on the left corner. Make a right going to the Professional Regulations Commission (PRC) office. Follow that road until you get to the Guadalupe Barangay Hall. Make a right turn and boom! It's on your right. There's open-air parking for 5-6 outside. They're open everyday from
12:00PM-10:00PM
.
When in Saigon
The idea is to dine as you would on the streets of Thailand or Vietnam – al fresco. So there is seating for 30 outside and another 30 inside. Little Saigon Big Bangkok has really captured that ethnic street food vibe with the shabby chic tarp used as a rain guard, the soft ambient lighting emanating from paper lanterns above, and most especially, the novelty of
having your food cooked right in front of you
so you can see how fresh the ingredients are.
What's cookin', good lookin'?
The emphasis of their menu is that all dishes are made fresh, as you order using herbs and vegetables grown on the premises as well as fresh ingredients purchased on that same day. They have a rotating menu, so it keeps things interesting…something to look forward to every time!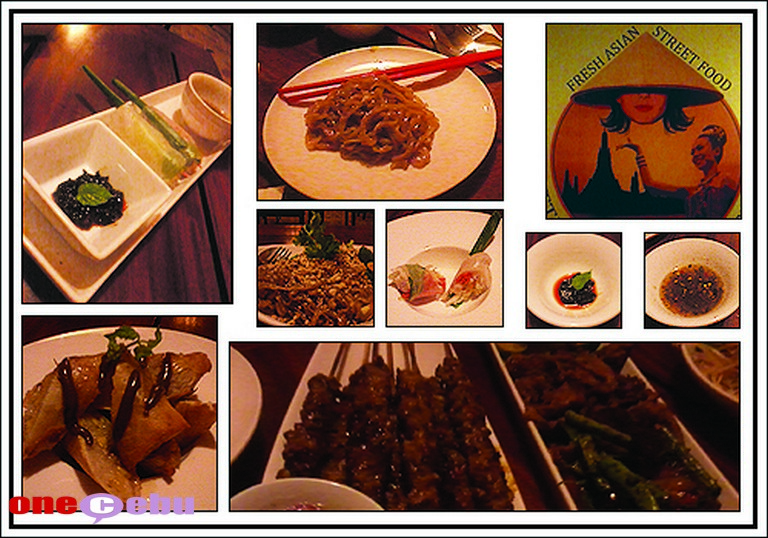 Goi Con Vietnamese spring roll, P50
Fresh shrimp and vegetables wrapped in rice paper and served with homemade spicy sauce and herb-infused fish sauce. We ordered one to try but had to get two more afterwards!
Phad Thai, P250
I just had to try it! I love Pad Thai and wanted to know how theirs measures up. Its fried rice noodles with homemade tamarind sauce are not presented like how I'm used to (wrapped in scrambled eggs), but it was still really good - perfect 10!
Satay, P225
I went to Singapore and had chicken satay in the place known to have the best satay in the world. Eek! Was not a fan. But I have to say, LSBB's pork satay (since they were out of chicken that night) changed my mind. It was fantastic! The satay is imported from Indonesia, rubbed in turmeric, and served with a peanut sauce and some sort of vinegar with cucumber (also super delish!).
Hanoi-Style Grilled Pork, P250
Yeah, yeah, another pork dish. Ze boyfriend doesn't like chicken so sue me. These grilled thin strips of lemongrass pork are so super tender! It goes really well with the dipping sauce. The veggies served on the side are also to-die-for!
"I'm hungry now. Wanna go back there."
Sticky Rice Mango Roll, P100
It's "mango wrapped in stick rice and rice paper, deep fried and drizzled with honey and dark chocolate." Breakfast in a roll…a big roll! It can feed 5! Swear!
Healthy discount
You can get a discount if you've finished a marathon, triathlon or other significant accomplishment related to your health and fitness, details can be found at their website.
Early bird gets his orders in time
LSBB has very good service. The staff mean well. But the night we ate there it was raining and the place was packed. Well, it was packed after our orders were taken. Our table got really good service. Within 5 minutes or less, our starter was served. Then we probably had 3-minute intervals per dish after that. Our dessert was served after we finished everything else. But the table right next to us had to wait 30 minutes before their appetizer was served. It's all about timing. I suggest that you call in ahead, get a table, and come in before 7:00pm.