Jeepney Guide In Going To Selected Cebu Government Offices
Governement offices don't usually change position or address overnight. However, it is still important to be familiarized with the local government offices around us. I bet the following agencies and offices are already familiar for most but there are still some fellow citizens outside Cebu City proper who still might need some aid in going around the city. We don't know when we'd really need to access theses offices' services but it really pays to be informed earlier as to their whereabouts.
Taxis, of course, are the best choice to go to places with the hassle. But then, it can be costly especially when you get caught in heavy traffic. Jeepneys are always there but it needs some patience during the ride. However it need not be that tortuous. You only need to know the exact jeep to ride on.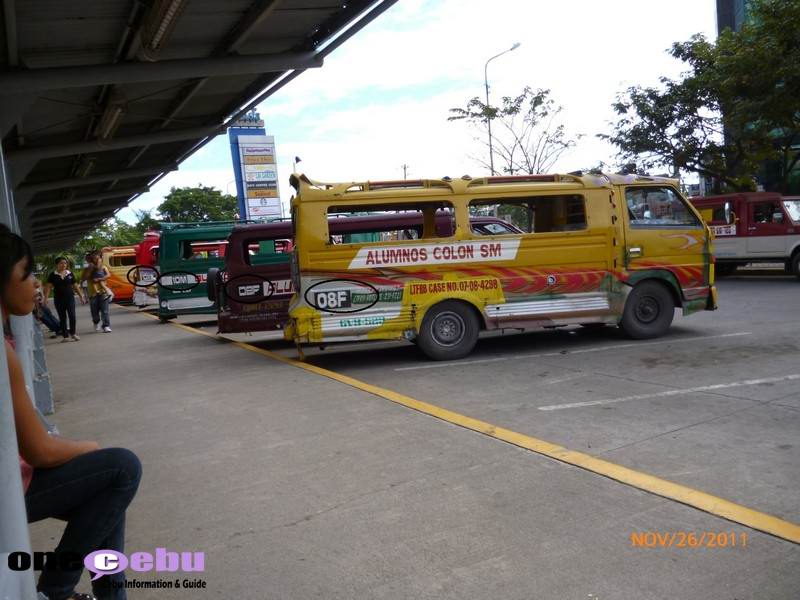 PAG-IBIG
This is located at WT Corporate Tower, Mindanao Avenue, Cebu Business Park Cebu City. It's just a walking distance from Parklane Hotel and Ayala Mall.  If you're from Colon or downtown area, you can ride a jeepney with 14D signage as it goes directly to Ayala. Ask the locals once you reach the place and pretty sure they will just point out the building from a not so distance place. Just be careful with the running cars as the area can become a place for heavy traffic. Other jeepney signages which you can ride on include 13C,04C and 12L. Basically, you can ride anything that's bound for Ayala and you are sure to get to the place.
View Larger Map
Social Security System (SSS)
Pensioners and workers alike are sure to visit the place at some point. This was previously located at Gorordo Lahug area but has now transferred along Osmena Boulevard. If you know University of Cebu in Sanciangko Street (near Colon area), you will get to SSS easily. It is near PS Bank. Jeepneys with the following signages pass by the area: 14D,06b,06c (from Colon area), 06b,06c,04H, 07d (from uptown area), 01k,04c,17c (from UV area). There are more signages than I can mention here, you can also try them. Just be sure to know the nearby landmarks.
View Larger Map
Professional Regulation Commission (PRC)
This is a very small building located at 979 V. Rama Avenue Street Guadalupe, Cebu City. It is usually filled with a lot of people who want to process or renew their registration. You can ride jeeps with 06B signage.
View Larger Map
National Bureau of Investigation (NBI)
NBI clearances are claimed here. However, getting that clearance can be quite strenuous since you need to fall in long lines. Sometimes, priority numbers are given for another day. The Cebu City Capitol can be your landmark. Facing Capitol, it is just on the western part. You can get there with a 06b or 12L jeep. You may walk a little distance though.
View Larger Map
Bureau of Internal Revenue (BIR)
Cebu City branch is located along  N. Bacalso Avenue. Cebu Institute of Technology can serve as your landmark. The following can get you there: 10F, 10H, 09C, 10C, 09F, 10M, 41D, 42D.
View Larger Map
National Statistics Office (NSO)
Birth certificates are accessed here. It is located at MJ Cuenco Avenue Cebu City. You can go there by riding 10M jeepneys. The Plaza Independecia can be your guide in reaching the place.
View Larger Map
Cebu City Hall
If you intend to get your cedula or community tax, this is the place to go. It is located along Magallanes Street. Frequent passers include jeepneys with 06b,06v,04c, 12G signage.
View Larger Map
Cebu Provincial Capitol Building
You can reach this place along Osmena Boulevard by riding jeepneys with 06b, 14d, 12L,04H signage. This structure is readily visible from Fuente Osmena circle.
View Larger Map
Government Service Insurance System (GSIS)
This is one of the easiest buildings to spot. Drop by Elizabeth Mall and right across it is the GSIS building. It's in Leon Kilat Street Cebu City. You can get there by riding 10f, 10h,09c,10c,10m, 01k jeepney signage.
View Larger Map
Philhealth
Clarifications on your Philhealth insurance can be settled in this building located at Golden Peak Tower, Gorordo avenue, Corner Escario Street Cebu City. Basically, it is really just on the ground floor of the Golden Peak Hotel. Go there by riding 04c,17c,14d,12L signages.
View Larger Map
[bg|cebujeepneycodes]