When is the Best Month to Visit Cebu?
JANUARY
Perfect for those who love to party.
Sinulog! Fresh from the Christmas and New Year festivities, Cebu City is already gearing up for Sinulog. Religious in nature, Sinulog commemorates the Cebuanos' acceptance of Roman Catholicism through the symbolic gifting of the Santo Niño, a statue of the child Jesus.
On the third Saturday of January, devotees flock and join the holy procession, braving rain or sun just to show their devotion to the child Jesus. The grand street parade always falls on the third Sunday of January. The parade lasts nearly the entire day with the contingents from different towns and cities all over the Philippines dancing to the beat for up to 12 hours. The Sinulog contingents, participants and audiences are often dressed in colourful clothes and sway to the rhythm of drums and trumpets.
The downside is the heavy traffic jam. As main roads will be closed, there will be traffic rerouting and of course, chaos. For those who hate crowds, better mentally prepare yourself. There will be lots of pushing, shoving and noise.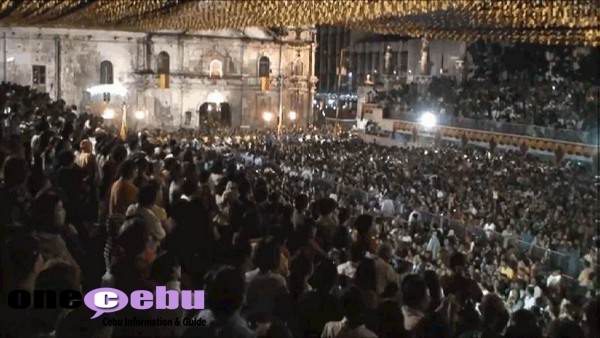 The novena mass at the Basilica Minore del Santo Niño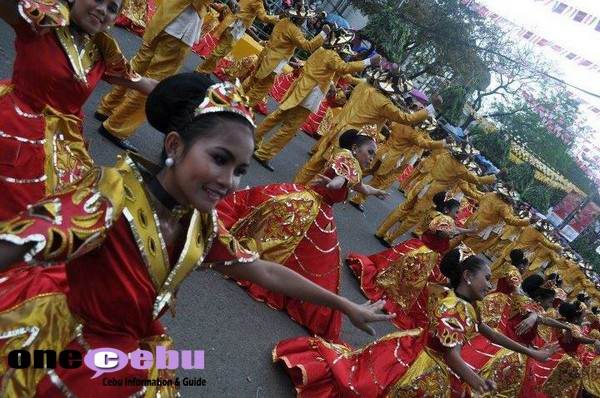 The grand street parade
FEBRUARY
Perfect for couples who are looking for romantic deals and getaways.
The love month. This is the month that hotels, restaurants, gift shops and boutiques capitalise on lovers. You will see a lot of hotel promotions, restaurant special offers and flowers will be twice more expensive than the usual. People are nicer this month for some reason.
MARCH OR APRIL: THE HOLY WEEK
Perfect for those who want to experience the peak of Cebuano religious fanaticism.
We can't really determine which days or which month the Holy Week falls on. It depends upon the liturgical year or Christian year. Usually it falls either on March or April. Cebu is very quiet and solemn during this time. Most shops are closed and malls open only for a limited number of hours (usually totally closed on Good Friday). Most locals will probably head off to the beach for a quiet getaway, while some prefer to stay in their homes. One thing for sure, Catholic churches will be packed from Maundy Thursday to Easter Sunday.
If you want to witness how deep-rooted Roman Catholicism is in Cebu, this is the right time to do so. You will see people voluntarily nail themselves on the cross or whip their backs as an act of atonement.
Processions are a-plenty, and so are traffic jams. It is not really a good time to holiday in Cebu.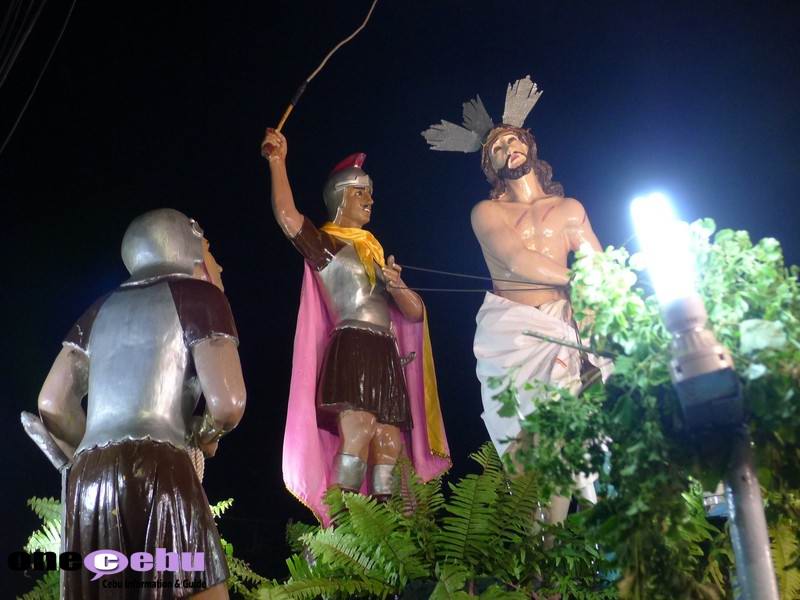 Floats like these are common sights even along main roads during the Holy Week
APRIL TO MAY
Perfect for those who love the beach and summer rave parties.
Summer rave parties are in full bloom around April to May. It's the summer break and students are free from the chains of school! Expect lots of small or highly-marketed parties. Malls will be packed too nearly every day during summer. Every. Single. Day. The temperature is rising and the locals are looking for free air conditioning! What better place to hang out than the malls?
Beaches, of course, are packed. And so are resorts and hotels. This is considered peak season so expect hotel prices and plane fares to be on the steeper side.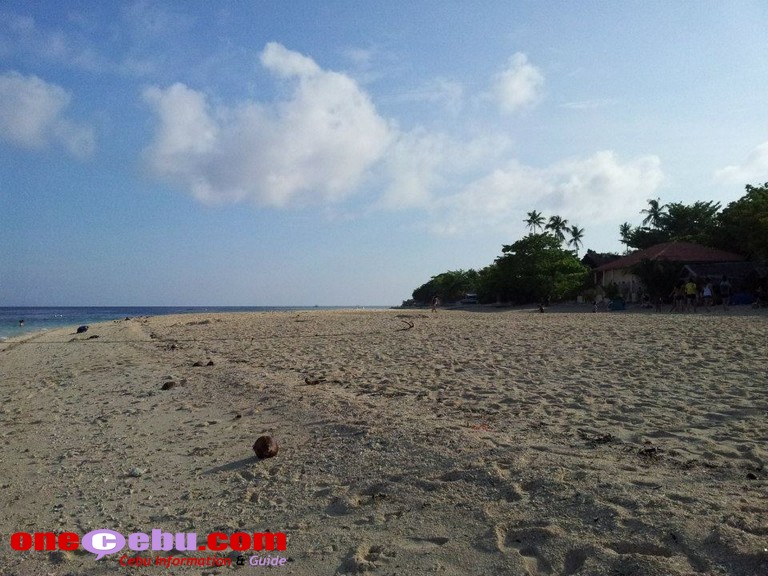 Summer in Cebu is all about the beaches!
JUNE TO SEPTEMBER
Nothing much happening here. School starts in June so most of the students are buried in homework and exams. Malls and cafes are only flooded with people during the weekend or after office hours (around 5pm). Less traffic jam from 9am to 5pm (in between office and school hours).
OCTOBER TO NOVEMBER
Perfect for those who want less sweltering heat. There is a bit more rainfall around October and November – actually a bit more typhoons too. The good side is, less heat and humidity.
Not much festivities around these months except for Halloween, All Souls' Day and All Saints' Day. Night clubs capitalise on Halloween, with costume parties and party events. Malls do too. You will see a lot of kids in malls wearing costumes ranging from a burlap sack with holes for the eyes to an Annabelle doll costume, complete with roller skates to make the kid look like she's floating. Trick or treating has made its way into most establishments and gated subdivisions in Cebu too.
All Souls' Day is the day Filipinos remember the dead. During this time, steer clear of roads along cemeteries because the traffic jam is heavier than ever.
You will see so many people carrying candles and flowers and flocking to cemeteries – and even spend the night there.
DECEMBER
Perfect for overseas Filipino workers to come home. Not the best time for tourists to enjoy Cebu though.
Ahhh Cebuanos' (and Filipinos') favorite month. This is the season of Advent and Christmas. And bonuses for employees. And Christmas parties. And Christmas vacation for students. No school for a couple of weeks! And binge eating. And lechon.
Cebuanos are definitely happier this month, revelling in the joyous festivities, the gorgeous lights and decors and of course the shopping sprees. This is the season for family reunions and dinners and Filipino workers from overseas save up their hard-earned cash just so they could spend Christmas in the Philippines – and yes, plane fare is WAY MORE EXPENSIVE during this month.
Bargain shopping experience is at its finest as there is a sale event nearly in every store. Traffic jam is on a high too.
For tourists, this is the best time to observe the Filipino culture. However, I wouldn't really recommend that you visit around December because of the frequency of typhoons and of course, flooding. Constant rainfall means you can't enjoy the beach. And it is such a waste for you to visit Cebu and not make the most of its beaches. December flights are insanely expensive too. Plane fares this month balloon to up to three times its usual price! Hotel prices also hit the roof.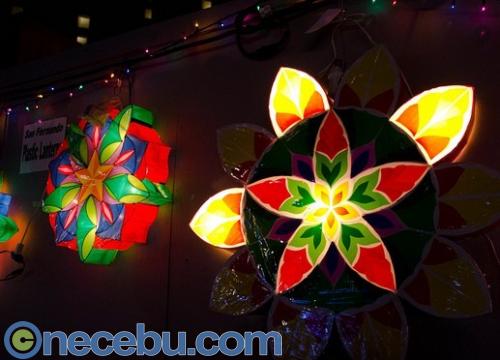 One of the beautiful Christmas lanterns peddled along the streets of Cebu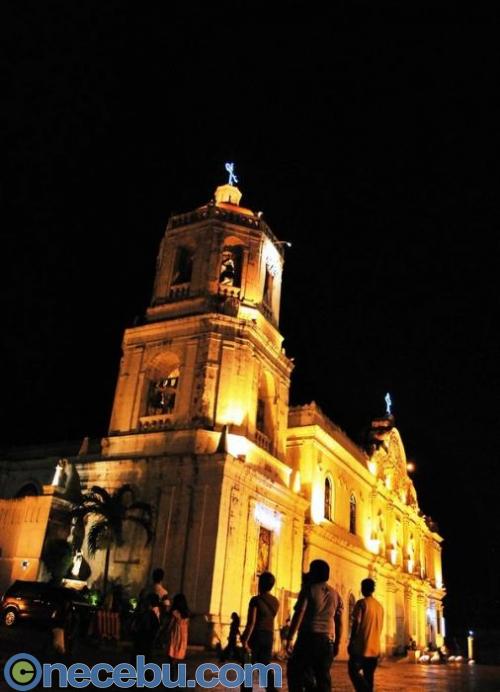 People flocking to church to attend the "Simbang Gabi" (mass before sunrise) which starts at 4:00 am everyday from December 16 to December 24.
Note: While writing this article, I realised that this is a tricky one and maybe a bit too general. Comments and suggestions are welcome though. Be nice, rude people are gross.