Pearl Meatshop & Restaurant: Cheap Korean Food
Head on down to the
Pearl Meatshop & Restaurant
along AS Fortuna Street, Mandaue (across LH Prime Diagnostic Clinic) for some really good Korean food. It's nothing fancy. In fact, it's pretty shabby. It's a meat shop up front that sells meat imported from Korea. There are different cuts of pork and beef that you can buy by the kilo and cook at home. They also sell a few other Korean products like snacks, instant noodles, and Korean ice cream treats. But I go there to eat. Behind the meat shop is their – and I use the term loosely – restaurant. It's tables and chairs with mini gas stove tops where you cook the meat. They also have Korean style seating but it's not advisable if you have back pains or have trouble pulling yourself up from a squatting position. The male restroom is cleaner than the female. You have to watch your step as there are gas pipes running across the floor between tables.
The Food
Onto the food, the menu is in Korean but there are English descriptions below the photos that can be pretty confusing. There are at least 3 different pork strips and 3 different beef strips. When I asked the waitress what the difference was she said that they all taste the same, they are just cut into varying thicknesses. You can also order noodles or rice but I don't recommend it as the meal is already pretty filling on its own.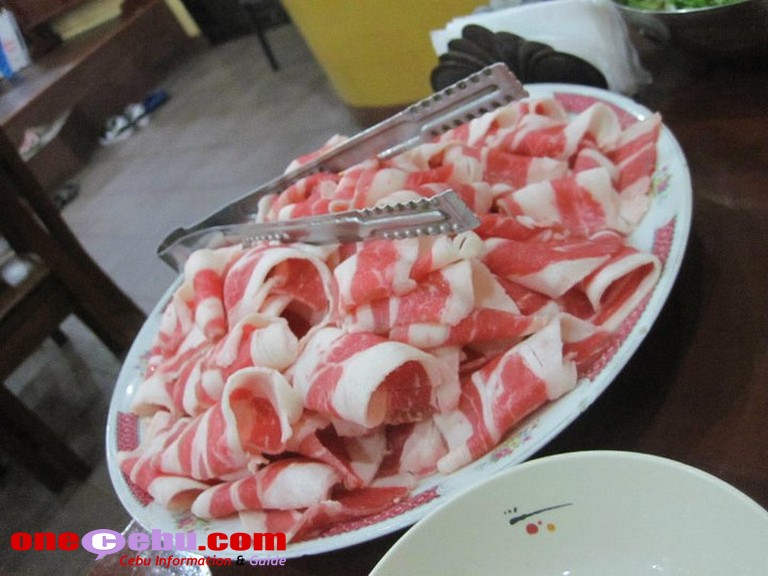 As soon as you pick which cut of meat you want, they serve you with your "fixin's." These include a platter of fresh Chinese cabbage, loose-leaf lettuce, green chili, onions, and chopped garlic; chili paste and herbs in sesame oil; spicy cabbage kimchi; bowl of hot & spicy soup with tofu and cabbage; and fresh salad greens in vinegar. All these fixin's are unlimited but the proteins are not. I ordered thin beef strips (P180) and thicker pork strips (P160). You can cook the food yourself or ask the waitress to do it for you. The meat is impressive considering the prices all less than P200 per order. Although the strips look bland because of the absence of marinade, it's actually very flavorful.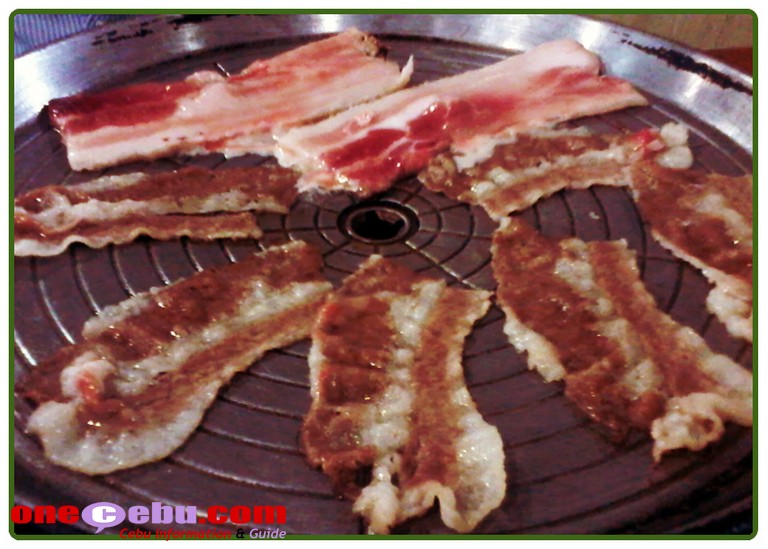 Review
All in all, I give it a 7/10 on the count of really shabby place but really good food. It satisfied my Korean cravings. I did however feel that the side dishes were lacking. Other restaurants serve a wider selection of fixin's. It's not that bad. There's air conditioning and wifi. The staff is very knowledgeable and accommodating. You can have Korean ice cream for dessert!
If you're lookin' to do some Korean cookin' (and you're not picky about ambience) visit the Pearl Meat Shop and Restaurant at AS Fortuna Street from Monday-Saturday 11AM to 10PM.