What in the World is "Tuslob Buwa" (Literally translates to "Dip in Bubbles")?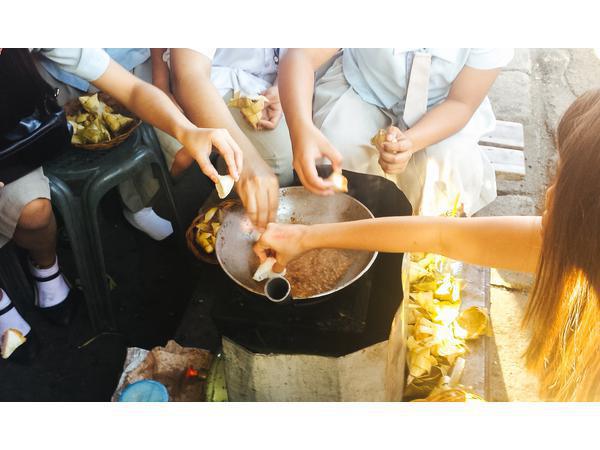 Source: http://www.pepper.ph/tuslob-buwa-bubble-bath-brains/
Tuslob Buwa is a food originally made by Cebuanos in Pasil.
The gravy is a weird concoction of pork brain, intestines and liver that is sautéed in oil and often paired with "puso" hanging rice.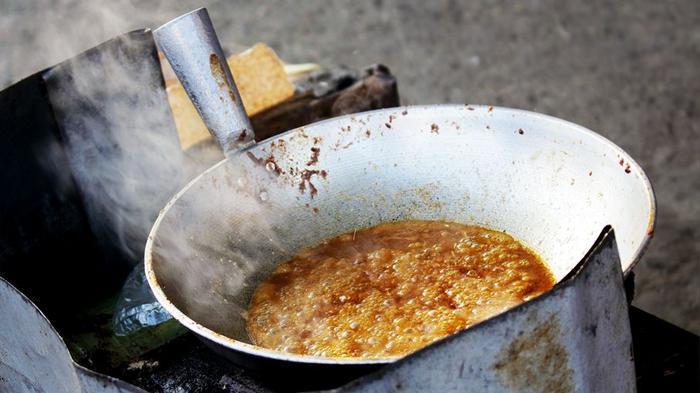 Source: Pinterest
Tuslob Buwa tralsates to "dipping it in bubbles".  Tuslob, to dip and buwa, meaning bubbles.
Tuslob Buwa is a street food and in Pasil, you have to share it with strangers. Not really the most hygienic way to eat though. Who knows if he/she is carrying a contagious disease? That'll be off. That's the negative part in street foods but then many have discovered the yummy dish and have made it their specialty – less the dipping with strangers. Other places allow you to share the gravy with… friends and family. Still not really hygienic.
One of the more famous Tuslob Buwa places in Cebu is Azul. Like most tuslob buwa places, this is a self-service establishment. You must bring a  friend of yours that has great taste (and not so picky)! That'll save your time. The attendants will give you the things you need in order to cook. Butane, mini stove, pan, garlic, onions, spices oil, minced pork liver, intestines, and brain.
You must be careful when cooking! First you have to heat the pan, add oil, then put  in the garlic and onions. Wait until it is fully cooked, put the pork entrails and what-have-yous, add seasoning then keep stirring until you see boiling bubbles. Ta-daaa! It's ready!
You must dip your "puso" into the gravy before you eat it. In Azul, the meal will cost you Php. 99.00 with 12 puso. This place is located at Gorordo Avenue, Cebu City.
Where to Go for Meals and Snacks if You're on a Tight Budget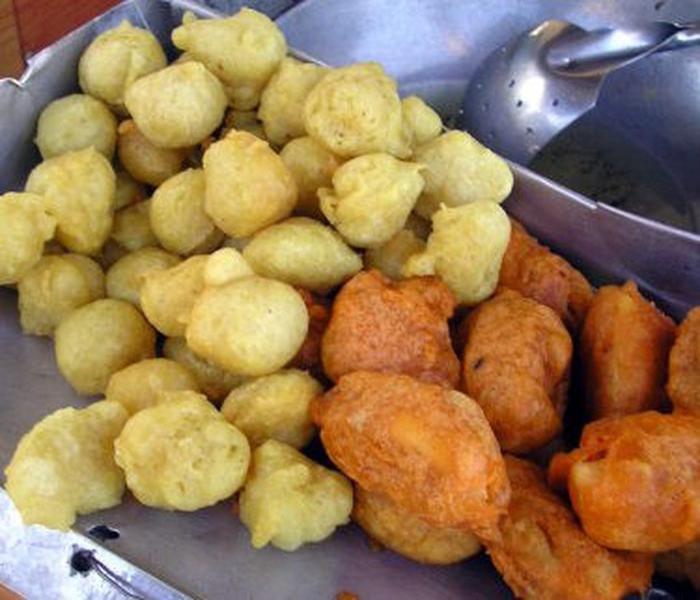 Fishball and Kwek Kwek, Filipino street food from Camarines Norte, My Visita Iglesia from Wikimedia Commons
When it's nearing pay day ("ting-bitay") and you only have limited cash left for food, you don't have to go on a forced diet. You can actually still eat your fill.
Continue reading...
Must-Try Foods in Cebu: You'll Get Addicted to the Cebuano Tempura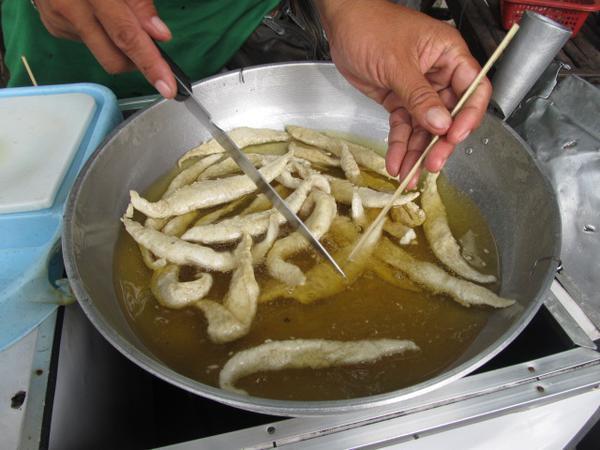 Source: cebuanawithlove.wordpress.com
To the rest of the world, tempura is a Japanese dish of seafood, meat or vegetables that is battered and deep fried.
Continue reading...
SHARE IT