Passport on Wheels sa Cebu! For the first 1,000 applicants only!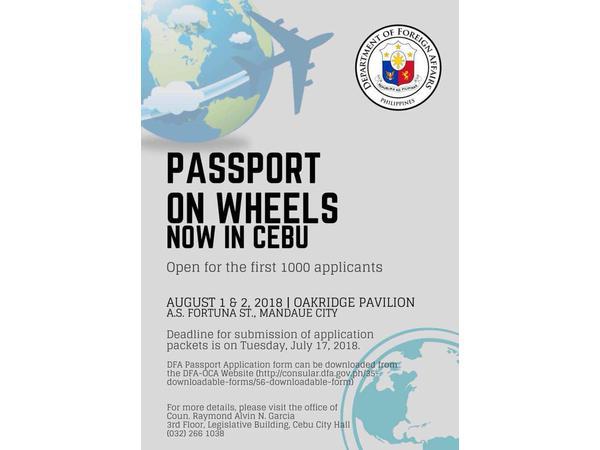 Need to apply or renew your passport but dont have a schedule with the DFA?
Pahibalo sa mga Sugbuanon:
Passport on Wheels on August 1 and 2 at the Oakridge Pavillion in Mandaue.
Open only to the first 1000 applicants who are Cebu City residents.
3 types of applications will be entertained:
New Applicants: 1. Personal appearance 2. Accomplished application form 3. Original copy of Philippine Statistics Authority (PSA) authenticated birth certificate 4. Original copy of PSA authenticated marriage contract or report of marriage (for married females) 5. Original and photocopy of Valid IDs
Renewal Applicants (maroon, green, and older passports): 1. Personal appearance 2. Accomplished application form 3. Original copy of Philippine Statistics Authority (PSA) authenticated birth certificate on security paper 4. Original copy of PSA authenticated marriage contract or report of marriage (for married females) 5. Original and photocopy of Valid IDs
Lost Expired Passports: 1. Personal appearance 2. Accomplished application form 3. Original copy of Philippine Statistics Authority (PSA) authenticated birth certificate on security paper 4. Original copy of PSA authenticated marriage contract or report of marriage (for married females) 5. Original and photocopy of Valid IDs 6. Affidavit of Loss
SHARE IT