The JIGA Service is One to Beat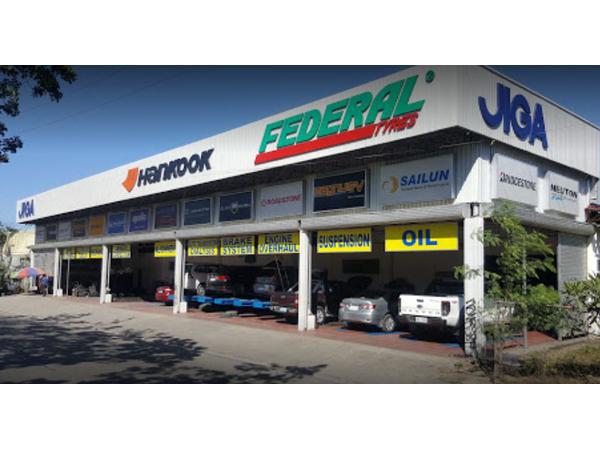 Google Image; (c) Jogo Mogol
While waiting for my car to be serviced, I talked to the owners at JIGA and found out that that quite a few used to be Tri-J customers, but left for lack of good service, lack of trust in the brand and all in all dissatisfaction with the service level. Welcome to the club, they said.
This is not a paid ad, by the way. Because of a contributor's past Tri-J, experience, let's compare one of Cebu's leading car servicing business with JIGA.
Transparent Process
First, Jiga can accommodate more cars, has a cleaner garage, and is very transparent. If you don't want to sit in the lounge and prefer to watch your car being serviced, they will gladly provide you with a seat.

Whereas Tri-J's set up isn't exactly transparent. I couldn't even see my car as it was being serviced.
The great thing about JIGA's set-up is that you can check what the technicians are doing, ask questions along the way, see the actual product they are using and even get some free tips and recommendations. True professionals, these guys.
Before they upsell anything, they will tell you why you need to replace the particular part, and what your options are. They do not proceed to change anything without getting your consent.
Transparent Pricing
The Jiga crew will attach a chit to your car which sets out all the major services, replacements, etc being made. Description is CLEAR. Warranty is CLEAR. Pricing is CLEAR. The best part is the warranty and the reminder when your next preventive maintenance will be. You can go through your bill and take as much time as you need to verify if it is correct. They won't prompt you to hurry. Once you are satisfied, they will issue an official receipt, give you a card and place all these in an envelope. So clean and professional.

Tri-J, meanwhile, will NOT explain what they will do and potentially how much it will cost. For example, they charged me for car disinfection at 500 even when I didn't ask for it. The receipt is just that -- a receipt. I asked for a calling card, the plump lady in front simply replied "look at the receipt". No PMS reminder on the receipt, no card, no warranty.
Friendly Crew
Tri-J's crew and managers do not wear uniforms. You wouldn't identify who works there and who doesn't. It's really just a glorified talyer when you look at it. 

Jiga's crew are professional. They explain what they are currently doing, suggest if something needs to be replaced and will check if you have the budget for it. Most of them speak tagalog, but there are a few who speak Cebuano as well. They are polite all the time -- and I mean ALL the time, from the time you go in, to the time you pay your bill. Tipping is absolutely worth it here.
Parts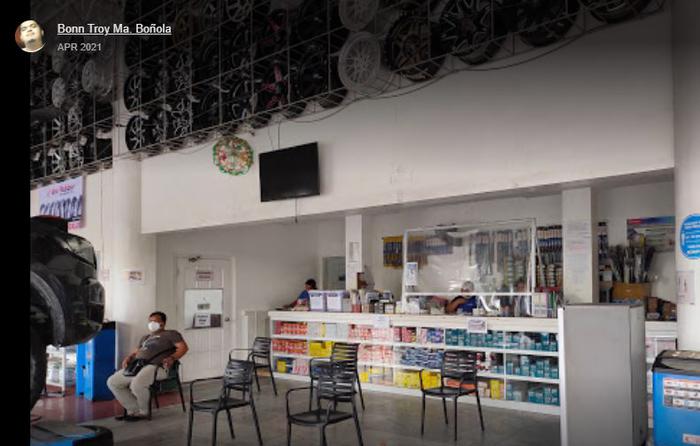 Bon Troy, Google
Jiga has a wide variety of parts, motor oil and whatever you need. Look at the range of tire rim options available! There's loads of them. And the tire options -- quite a lot. We purchased a set and they gave us the 2021 tires. They even gave us several price tiers to choose from and informed us of the difference.
Compared to the article on Tri-J and their scam, giving soon-to-expire tires. 
Read here to learn about a contributor's experience: https://www.onecebu.com/read/10443
Payment
The invoice is clearly set out, description is crystal clear and they even have a separate form if you decide to dispose of your old parts.

The invoice, calling card and other info are placed in a brown envelope. Professional, clean, fast.

They will recommend when your next visit will be and will give you their phone number, email and list of services.

The cashier is also professional and nice. Unlike the cashier at one of Tri-J's branch who always seems pissed off (suko man pirmi c manang). Tri-J merely staples your receipts (you wouldn't know which is for which service), no proper description, warranties aren't set out. When I asked for their phone number, I was merely told "tanawa lang sa resibo" (just look at the receipt). No name card, no service menu.

Clearly, JIGA wins.
JIGA is located at Lot 632-A Maximo Patalinghug Ave., Brgy. Basak, Lapu-Lapu City. 
Tel. No. 342-8459 / 342-8374 / (02) 871-4312. 
Cp.No. 09428778577 / 09458878097
And if you're wondering, YES, they are open on SUNDAYS!
SHARE IT