Villa Teresita Resort
Villa Teresita Resort is located in Biasong, Talisay City, Cebu. To those of you who don't know this, Talisay City is just the next city to the south of Cebu City. The fastest way to get there would be via private transport or taxi cabs. However, you also have the options of taking public transportations such as buses, V-hires and jeepneys. Buses and jeepneys don't actually go inside the long street that will lead you to Villa Teresita. Tricycles do. So if you do plan on taking the bus, jeep or V-hire, make sure you don't bring along lots of things.
Villa Teresita is an affordable getaway. This place is quite popular because of its beautiful pools, variety of amenities, location (it is just a stone's throw away from the beach) and its very affordable rates.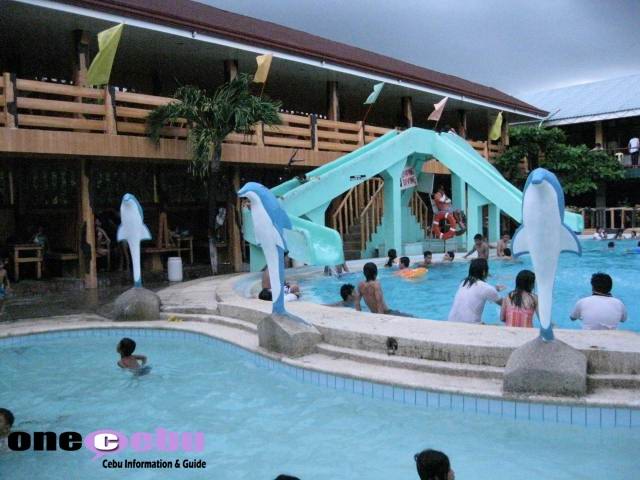 The facilities and services include 6 swimming pools in total: 1 Swimming Pool (4ft - 6ft), 1 Swimming Pool (4ft - 5.5ft) w/ slide, 1 Swimming Pool (6ft - 8ft ) w/ slide and 3 Swimming Pools for children. They also have a restaurant, function rooms for events and teambuilding activities, 24-hour room service, videoke rental, billiard/snooker hall, laundry & pressing service, catering service, standby generator, locker and discos on Saturdays.
One day will surely be not enough if you love swimming and lounging around. Villa Teresita offers a very relaxing atmosphere. On the downside, I did notice that they had lots of flies around which is a major turn off if you are renting one of those non-air conditioned cottages. It is also very unhygienic. Hopefully, they will do something about that.
If you are interested with the function hall rates for your company's team building seminar or your family's reunion, refer to the table below:

60 persons (Hanni): 1,000.00 pesos

60 persons (Tent): 800.00 pesos

80 persons (Mark): 1,500.00 pesos

100 persons (Nikko): 2,000.00 pesos
As for the cottage rates, you have the option to go for a smaller cottage or a really big one:

8 persons (Cottage # 5 - 18): 250.00 pesos

15 persons (Cottage # 1- 4, 20 - 24): 350.00 pesos

15 persons (Baby / Sheena): 350.00 pesos

25 persons (Pab-tess / Marlon): 600.00 pesos
Villa Teresita actually got its name from the owners' mother, Mrs. Teresita Santos, who was from Bulacan. The family came here in Cebu during the early 1990s. They made Cebu their home and initially set up 2 pools and 4 cottages just for their personal use. The neighbors loved their pool and often begged the Santoses to let them use it for a fee. So there, the business started.
A decade later, Villa Teresita now has more pools and facilities and is now known beyond the people of Talisay City.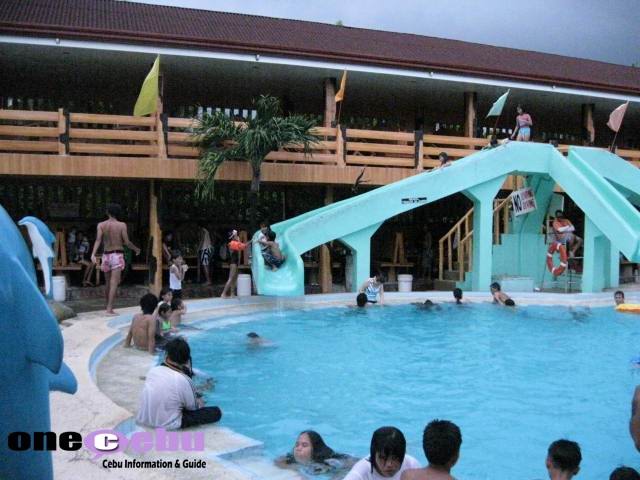 RATES

Entrance Fee Adult Minors (4ft below)

Daytime (8:00am - 5:00pm) 70.00 35.00

Night Swimming (5:00pm - 12:00mn) 80.00 40.00

Over Night (6:00pm - 1:00am / saturdays only) 100.00 50.00
CORKAGE FEE

Softdrink / case: 40.00 pesos

Beer / case: 50.00 pesos
ROOMS

9 Economy Rooms 1,300.00 Php (w/air-con, Cable T.V., & Breakfast)

7 Superior Rooms 2,000.00 Php (w/ Aircon, Refrigerator, Hot & Cold water, Cable T.V., & Breakfast)

2 Non-Aircon Rooms 800.00 Php (w/o breakfast)

3 Dormitory Type Rooms 360.00 Php(perperson)

3 Family Rooms 2,200.00 Php w/o breakfast)
HOW TO GET THERE (From Cebu City)

1) Take a V-hire, then transfer to a Tricycle

2) Take a Bus, then transfer to a Tricycle

3) Take a Jeepney, then transfer to a Tricycle

4) Taxi

5) Privately owned transportation