Plaza Independencia in Cebu
Plaza Independencia is one of Cebu's historical remains from the Spanish Era. As part of Philippine history, it witnessed several events of the country's oldest city and one of the most visited spot for tourists, both foreign and local visitors. This plaza is situated in M.J. Cuenco Avenue and Legaspi Extension and is part of Barangay San Roque Cebu City. Its strategic location captures Cebuanos and tourists since it is near the Port of Cebu. Surrounding  the Plaza are also most visited such as Fort San Pedro, Cebu City Central Post Office, Malacañang sa Sugbo (Customs Office), Department of Tourism, TransAsia Building and the former office of Department of Foreign Affairs.




After Mayor Michael Rama took office as the City Mayor, the public park was totally renovated as he considers this place a big part of his childhood years. The plaza, known before as the nesting place of robbers and pickpockets is transformed into a green and peaceful playground good for families to hangout and friends to meet.



I, for one, witnessed the big changes of Plaza compared to what it was 5 years ago. Every week I pass by it, going to my sister's house and seeing the more improved landscape, I opted to write this article to compare then and now and to give an overview also for tourist who will visit Cebu and also for my fellow Cebuanos abroad.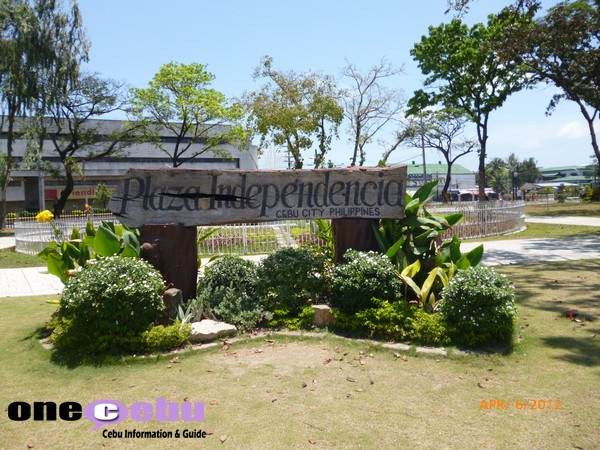 Cleanliness

Unlike before, where garbage was visible everywhere, Plaza Independencia today has a strict proper waste disposal and garbage bins are installed all over the place. City Park and Amusement personnel maintain the cleanliness in the area and it is considered a no smoking



Security

A tighter security is imposed within the Plaza. Security Guards patrol its perimeter and local policemen check the area every now and then. It also helps to lessen crimes and robbery in the place since the Precinct 5 near the Pier 1 can easily view the area and trees are trimmed down where they can easily look out in its more panoramic view.



Toilet

Clean toilets are accessible for ladies, men and handicapped separately. No fixed price to pay for using it but a brown donation box stands near the toilet door. Janitors keeps the toilet clean every 2 hours since the toilet is situated near their mini office. Unlike before where toilets are stinky, messy and dark, toilets now are well-maintained.



Lights

Lamps all over the Plaza keep it well-lighted during the night. During an event, the fountain in the center captures your attention where lights are more colorful and attracting. The road near the Fort San Pedro is also well lighted for Security Patrol to easily track pickpockets and immoral acts in done in the place.



Car Park

Cars can park in the parking area situated at the big space of Cebu Post Office, west side of Fort San Pedro and in a parking slots near the big Acacia tree in front of the fort. P20.00 for the first two hours and P10.00 for the next succeeding hour.



Wider Scenery

Big trees in the Park are now lessened unlike before where trees are sturdy and very crowded, making it seem like a mini jungle in the middle of the City. You can easily view the Malacanang sa Sugbo and the Fort San Pedro from the Streets of MJ Cuenco and Magallanes. The park has also concrete pavements used for fitness activities and is very convenient to walk during the rainy season. I remember its muddy passageways before where I have to bring another pair of slippers with me because the mud is all over the place.



Photography

You can always bring your camera in the park and capture its sceneries and monuments. Models often pose in the middle or within the landmarks.



Events

Different kind of Events are held in the Park. Unlike before, it is now more strict and you need to process a permit from the City Hall before you can use the area. The kiosk in the center serves as stage for Fun Runs and Marathon, Group gathering, rallies and parades.



Other Activities done at Plaza Independencia



    Venue of Events (Earth Hour 2012, Marathon and Fun Runs, New Year Countdowns)



    Jogging Place



    Parades



    Rallies



    Family Bonding and Picnics



    Prenuptial Shooting



    Subject of Photography



    Setting of School Projects (Re-enactment of Noli Mi Tangere and El Filibusterismo)



    Meeting place for barkada and couples



    Practice Venue for Presentation



    School Tours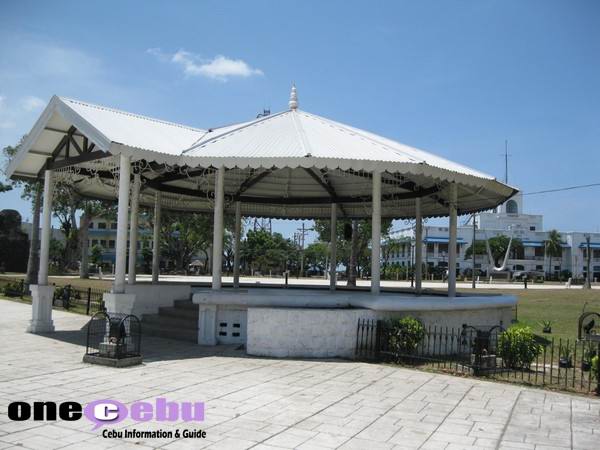 Landmarks near the Plaza Independencia



    Tunnel going to Cebu South Coastal Road



    Fort San Pedro



    Cebu City Post Office



    DOTC Building



    Malacanang sa Sugbo



    War Veterans Monument



    Memorial Edifice of Miguel Lopez de Legazpi



    Ramon Magsaysay Monument



    Kiosk



    Central Fountain    


    

How to get there:

You can ride a taxi cab from any point of the City or you can ride jeepneys with the number 02B, 12i, 12J and 12G. P8.00 minimum fare.  
To know more about jeepney number codes, click Cebu Jeepney Guide – Number Codes