The Balingaga Bells Return to the Philippines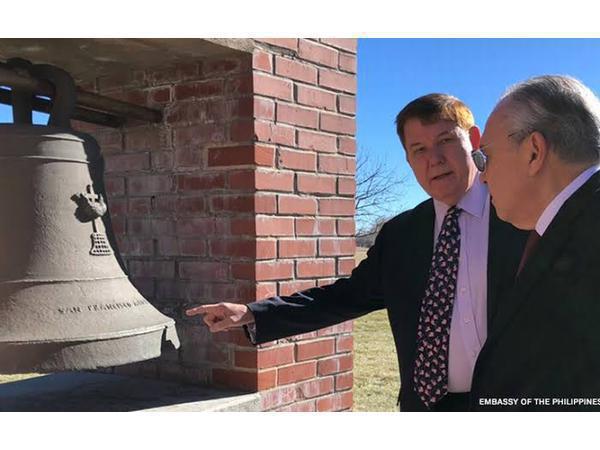 Source: Embassy of the Philippines
Since 1950s, many individuals from the Catholic Church of the Philippines, Philippine Government and residents in Balangiga tried to reach out American Government to return the Balangiga Bells.
The 2 bells are exhibited at the F.E. Warren Air Force base in Cheyenne, Myoming while the 3rd bell is in Camp Red Cloud. The 3 bells were taken by U.S. army after the Philippine-American war in 1901 and took it as their trophy for winning the battle.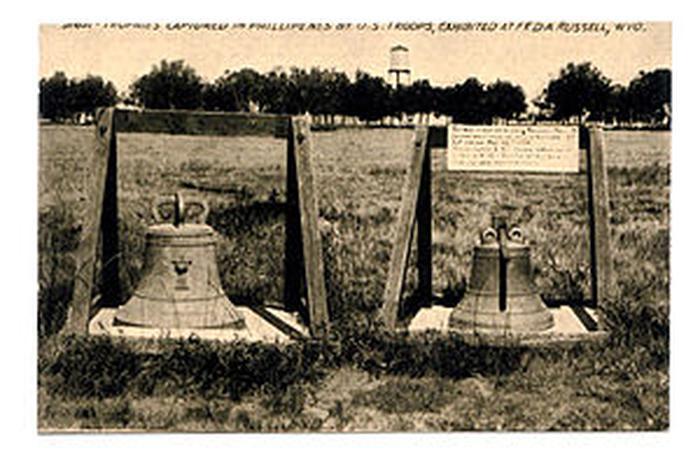 Source: en.wikipedia.org
In August 2018, the U.S. Embassy issued a statement that the U.S. Department of Defense and notified the U.S. Congress that they have plan to return the bells to the Philippines. Swift action was made. 
In November 15, 2018 U.S. Defense Secretary Jim Mattis formally returned the bells and a formal turn-over ceremony was made.
Balangiga Bells

Rare photo of US 9th Infantry Regiment Soldiers in the Philippines 1899 (philnews.com; Wikipedia)
The first bell is named Casta-Circa 1863 and has Augustinian emblem. The mouth diameter was 31 ¼ inches and 30 inches height. R. San Francisco was believed to be the parish priest at that time as his name was inscribed in the bell.
The second bell was made under Fr. Agustin Delgado. It was named Casta-Circa 1889 and has a mouth diameter of 27 ¾ inches and a height of 27 ½.
Meanwhile, the 3rd was acquired in 1895 under Fr. Bernardo Apacerio. It was the smallest bell and has mouth diameter of 20 inches and height of 23-24 inches.
History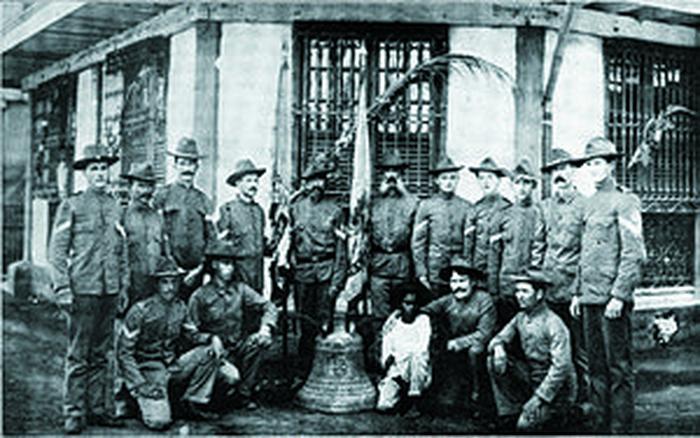 Photo of Company C, 9th US Infantry Regiment with Valeriano Abanador (standing, sixth from right) taken in Balangiga. (Wikipedia)
Way back in September 28, 1901 the Filipino militant groups ambushed Company C of the 9th U.S. Infantry Regiment while the latter were having breakfast. By the numbers, 48 were killed and 22 were wounded out of the 78 men in Company C of the 9th U.S. Infantry Regiment. Only 4 escaped unhurt.
The villagers (Filipinos -- referred to as the "belligerents" in Wikipedia) collected 100 rifles from the Americans and 25,000 ammunition. Around 20-25 villagers died during the ambush and roughly the same number were wounded.
After the ambush, General Jacob Smith ordered to the U.S. Army (Company K and L on the 11th Infantry Regiment) to shoot all Filipino males above 10 years old that are capable of bearing arms. Ladies and gentlemen, this was the Balangiga Massacre. They (the Americans) burned the Catholic Church and took the bells as trophies.
Now the bells are finally going back to their homes in Samar.
Chill! Korean Language Class is an Elective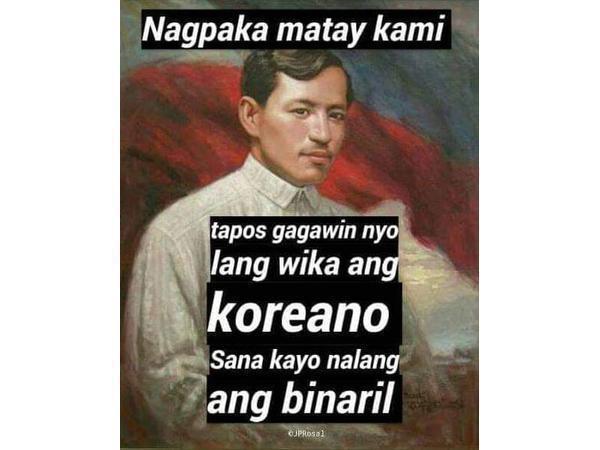 Source: JPRosa1
Many citizen were misinformed about the Department of Education's (DepEd) move to formalize the inclusion of the Korean language in the Special Program in Foreign Languages (SPFL) of public high schools in the Philippines. The program also includes other languages: Spanish, Japanese, French, German, and Chinese-Mandarin.
Continue reading...
David Archuleta in Concert Today - Do You Remember Him?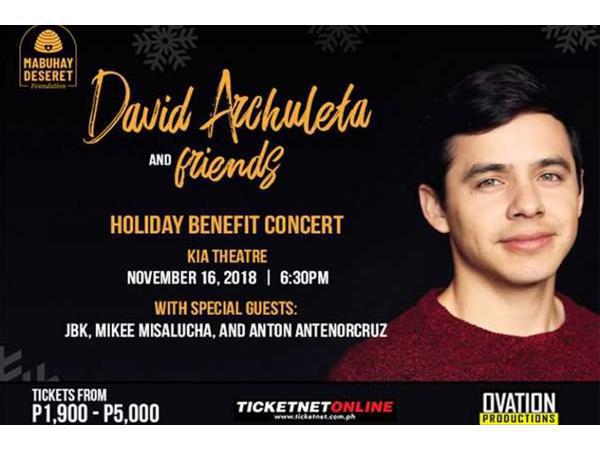 David James Archuleta will be performing a holiday benefit concert titled "David Archuleta and Friends" with Mikee Misalucha, Anton Antenorcruz, and trio JBK on Kia Theater (New Frontier Theater) today, November 16, 2018.
Continue reading...
Just in: Arrest Ordered for Imelda Marcos for 7 Counts of Graft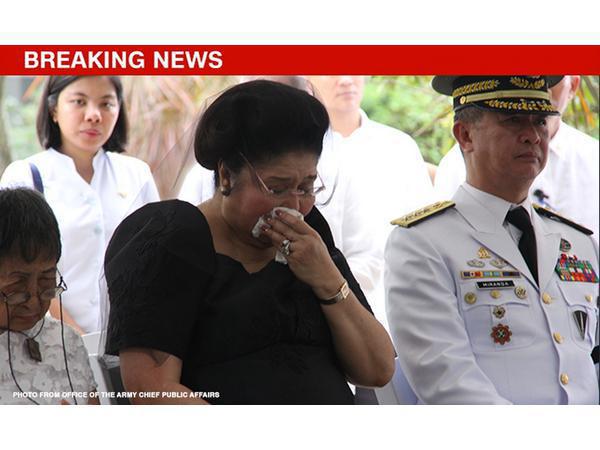 Source: CNN
Ilocos Norte Representative Imelda Marcos was ordered to be arrested by the anti-graft court after they found her guilty of 7 counts of graft.
Continue reading...
OPM Legend Rico J. Puno Passed Away Last October 30, 2018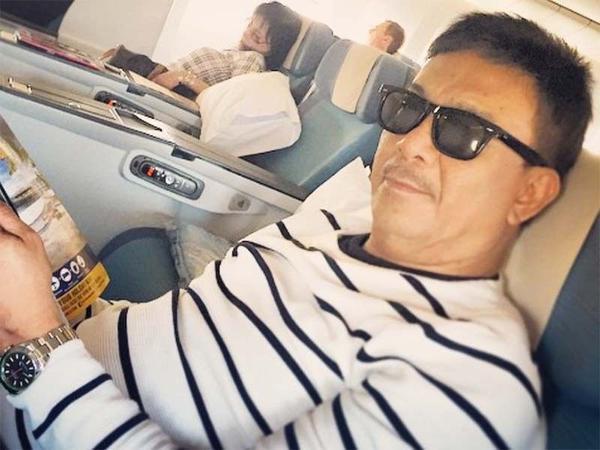 Source: Philstar
Enrico de Jesus Puno also known as "Rico J. Puno" passed away on October 30, 2018 at 1:56am. It was announced by Anna Puno, his sister-in-law on her social media account.
Continue reading...
Breaking News: Lion Air Crashes with 189 People On Board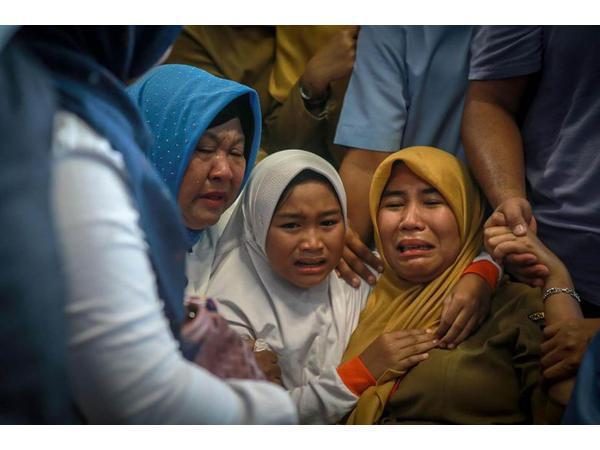 Source: Straits Times
Lion Air flight JT610, crashed today, Monday morning (Oct 29), just minutes after taking off from Soekarno-Hatta Airport in Banten, Indonesia.
Continue reading...
SHARE IT