Pinoy Recipes: Pancit Bihon Guisado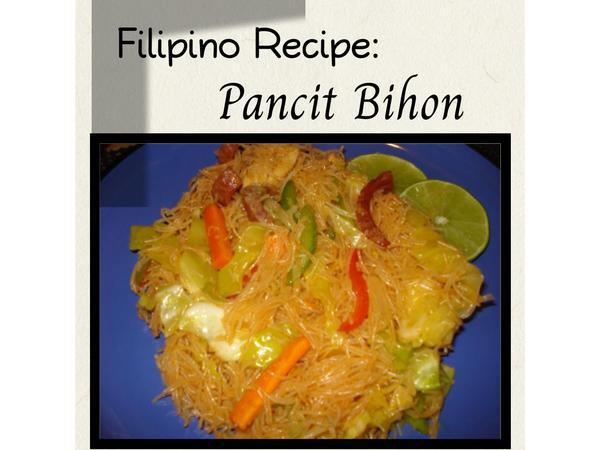 Source: commons.wikipedia.org
Pancit Bihon is a Filipino dish normally prepared during weddings, baptism, graduations or other special occasions.
It's also commonly served during birthday celebrations, for it is believed that rice noodles symbolize long and healthy life for the celebrant and must not be cut upon cooking.
Ingredients:
1 tbsp. cooking oil
2 cloves of garlic, minced
1 onion, sliced
1 large carrot 
1 red bell pepper
½ lb. pork, sliced
2 cups of water or chicken broth
1 cup cabbage leaves
salt, pepper, soy sauce, fish sauce (optional)
½ lb Pancit Bihon (rice sticks)
lemon or calamansi for garnish
Preparations:
Cut the carrot, red bell pepper, and cabbage in julienne cut (strips). 
Rinse pancit bihon with water, drain and set aside.
Heat oil in a skillet. Put the pork and stir-fry until it's half cooked.
Sauté garlic and onions for a few minutes. Season with salt, pepper, soy sauce and fish sauce (optional).
Add the carrots and red pepper. Stir fry for a few minutes.
Add water or chicken broth. Correct the seasoning according to your taste. Bring to boil.
Add the drained pancit bihon and let it simmer.
Use a fork or ladle to stir inorder to separate noodles.
Add broth or water if you think it's almost dried up and the noodles aren't cooked yet.
Add soy sauce. If it's bland and pale, add little more. 
Add cabbage leaves, mix well. Turn off the heat.  
Serve Pancit Bihon with lemon wedges.
Aside from pork, you can use chicken as a substitute and add some shrimp. In the old days, pancit noodles' basic ingredients were cabbage and Chinese sausage. Pancit was derived from Hokkien Pian i sit which means "convenient food or fast food". It has been introduced by Chinese settlers and has been part of our culture for centuries.
As of today in the Philippines, there are many variants of Pancit recipes (dry and soup) prepared in Filipino cuisine. 
SHARE IT