Pinoy Recipes: Tinolang Manok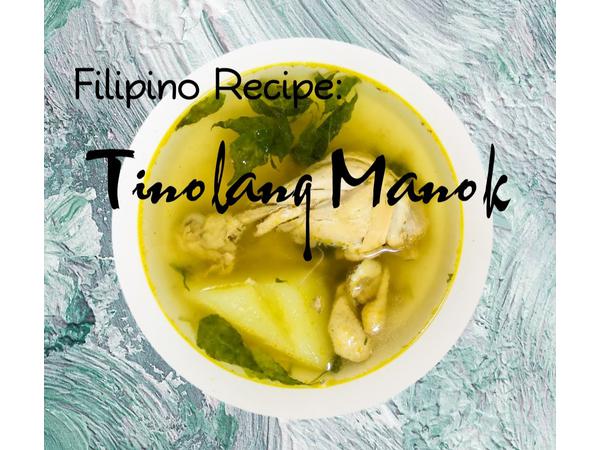 Source: commons.wikimedia.org
When it's the cold, rainy season in the Philippines, hot chocolate or sikwate is ever-present.
But it isn't just the sikwate that's present. Soup meals are more popular during cold months, and the Tinolang Manok is one of the more popular soup dishes there is. This Filipino dish is healthy and good enough to satiate one's hunger.
Ingredients
1 lb. chicken (cut into serving pieces)
1 tbsp. cooking oil
2 cloves garlic, crushed
1 onion, chopped
1 thumb-sized ginger root (cut into strips)
2 tbsp. of Patis (fish sauce)
4-5 cups of water
1 medium sized green papaya (quartered)
1 cup of Malunggay or Sili (chili) leaves
Preparations
Heat oil in a saucepan. Sauté garlic and onions. Add the onions and stir-fry until it's softened.
Add the chicken cuts. Cook for 3-5 minutes until the color of the chicken turns slightly darker.
Season with patis (soya sauce or fish sauce) and salt.
Pour the water and bring it to boil. Turn heat into low and let it simmer until the chicken is half-cooked.
Add the quartered papaya and continue to simmer until the vegetable and chicken are tender.
Correct the seasonings then add the Malunggay leaves or chili leaves. Stir until it's well blended.
Remove from heat and let it stand for a few minutes.
Best served when hot.
Tinolang Manok is also called Nilagang Manok. The main ingredient of this dish is the chicken. This recipe has been around for a long time and some people have created their own rendition of the Nilagang Manok. They combined it with asparagus, squash (kalabasa), chayote, corn, ginger, or green chili (sili espada).
In rural areas, they pick a certain type of chicken, a native chicken, for this recipe. They say that native chicken is tastier than other chicken sold in the meat shops. They also add lemongrass (tanglad), that will give fragrance and unique flavors.
SHARE IT