Tourist Attractions North of Cebu: Sights to See in Medellin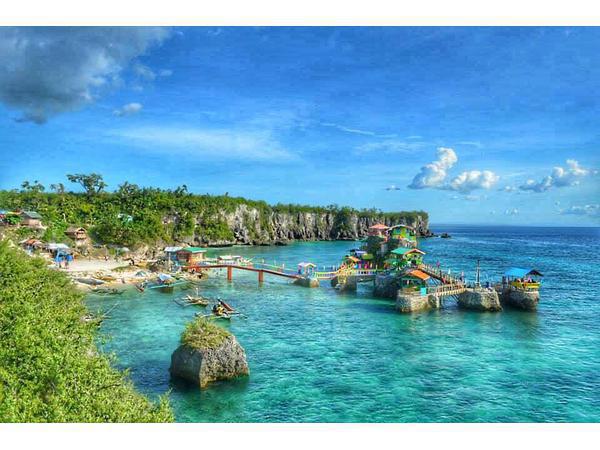 Source: Velgie Mae Tuyco in WOW Philippines
Founded in September 9, 1881, the town of Medellin consists of 19 barangays. It is classified as a 2nd municipal income class.
Some would currently label Medellin as Cebu's ecotourism adventure capital, plus it is one of the top 10 of the most visited municipality in Central Visayas.
Why do some people dub it as an ecotourism adventure capital? Read on to find out.
Gibitngil Island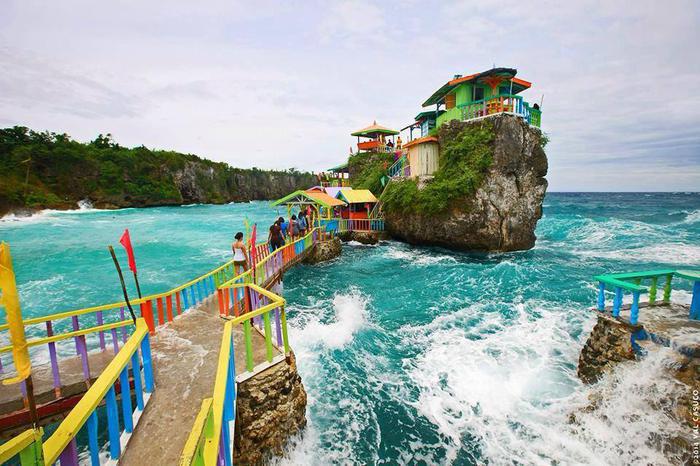 Source: Val Casuco of Cebu Daily News
Gibitngil Island is located in Brgy. Kawit, Medellin. It used to be called Isla de Amparo not so long ago. It is a colorful island connected from the mainland by an equally colorful foot bridge.
They also offer cliff diving at 40 feet, kayaking, zip lining from the cliff to the rock, and island trekking.
Entrance
Adult or Kids: 10 pesos
Cottage: 100-250 pesos
Cliff to rock: 50 pesos
There's no corkage fee if you bring in your own food and the grilling area is free of charge.
Zip Away in Caputatan Norte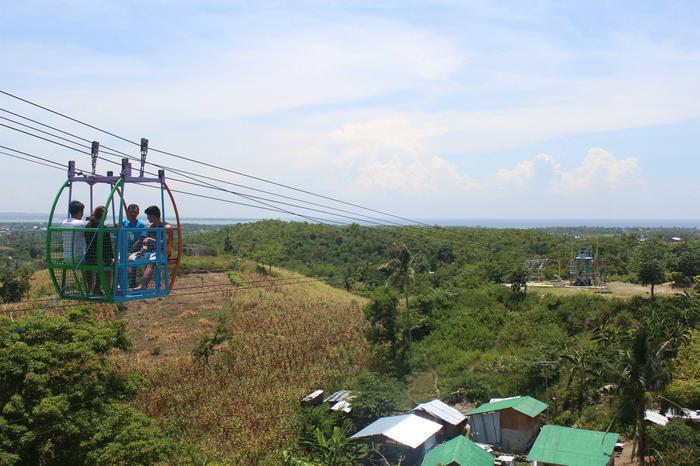 Source: Caputatan Norte Facebook Page
The Caputatan Norte zipline is located in… you guessed it, Caputatan Norte and offers zipline, sky bicycle, cable car and tarzan jump adventure options. Here's a little trivia, this place was the first ever in Cebu to offer sky bicycle rides.
Set up in 2010, Caputatan Norte has gained a lot of local fans (and even foreigners too). They're open from 9am-6pm all week. Only the sky bicycle ride costs 100 pesos, the rest will just require you to shell out 50 pesos per ride.
The best out of all is the Tarzan Jump. Here, visitors would line up and wait for their turn patiently – it is worth the wait. The jump is 15 feet from the ground.
Medellin Hideaway Resort
Medellin Hideaway Resort is located in Brgy. Tindog. The highlights of this resort (other than the beach) is the half kilometer pathway/bridge that is made of bamboo. The end of this bridge leads to a cottage that was built on a sea rock. It is said that the Mayor built this cottage to be the official sea post of Bantay Dagat to protect the Tañon strait from illegal fishing. People later discovered it, and eventually ended up as an attraction, until the LGU developed the place and called it the Medellin Hideaway Resort.
Entrance
Per Person: 10 pesos
Cottage: 1,000 - 2,500 pesos
Source: Rod Martin, Jr., YouTube
Dagusungan River Cruise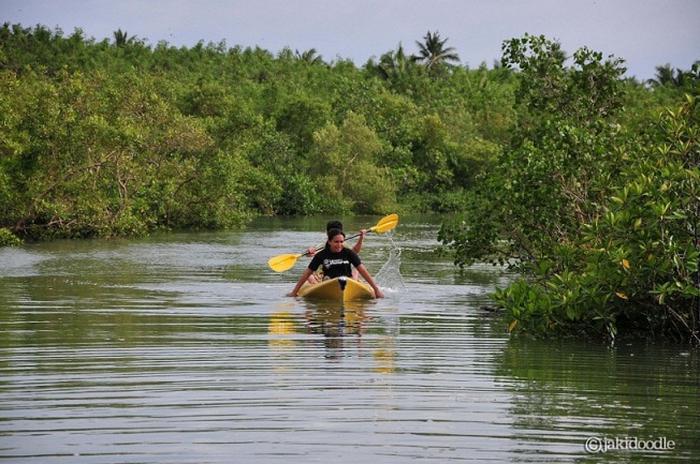 Source: http://www.peanutbrowas.com
At Dagusungan River Cruise, you can traverse the river through kayak! Sounds fun? You can travel from Caputatan Norte to Caputatan Sur, approximately 1.9 KM, or the route from Poblacion to Caputatan Norte, 2.8 KM. You'll pass by mangrove trees, and breath-taking sceneries.
The Dayhagan Canal

Source: https://www.facebook.com/medellin.cebu/
The Dayhagan Canal is a man-made canal, built during the Spanish era and estimated to be 1.5 KM in length. It connects the town's eastern and western sea boards. You can ride a "banca" (small boat) or kayak through the mangrove forest.
Note that the Municipality of Medellin offers a travel package for groups which costs 500 per person. You can stay overnight in an inn (with free meals) plus a day tour into the town's ecotourism sites. Also, you'll be picked up from your place (in Cebu) and transported to Medellin. Just inquire with the Medellin Municipality at +63 917 623 6248 or contact them via their Facebook page: https://www.facebook.com/medellin.cebu/
Tourist Attractions North of Cebu: Things to Do in Consolacion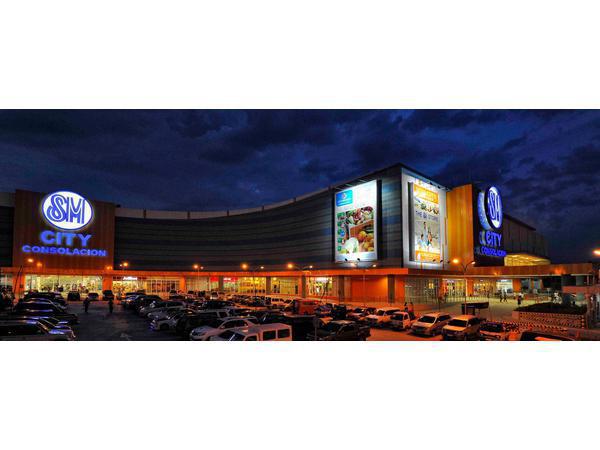 Source: Shopping Malls and Mall Store Directory Philippines
In 1871 the Spanish Governor granted the petition to make Consolacion a town on its own and separate from Mandaue. Prior to that, Consolacion was one of the barrios of Mandaue.
Continue reading...
Tourist Attractions North of Cebu: Sights to See in Catmon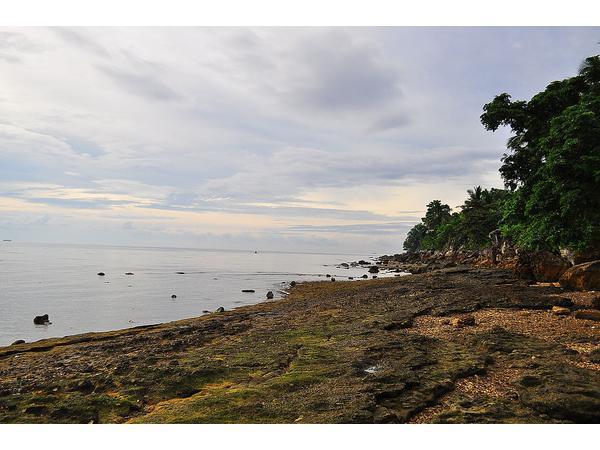 Source: Wikipedia
Northern Cebu is blessed with a lot of beautiful sceneries, whether it be mountain retreat spots or beach resorts. Catmon is no exception. Not known to many, but Catmon has a lot of beautiful natural getaway spots.
Continue reading...
Tourist Attractions North of Cebu: Sights to See in Asturias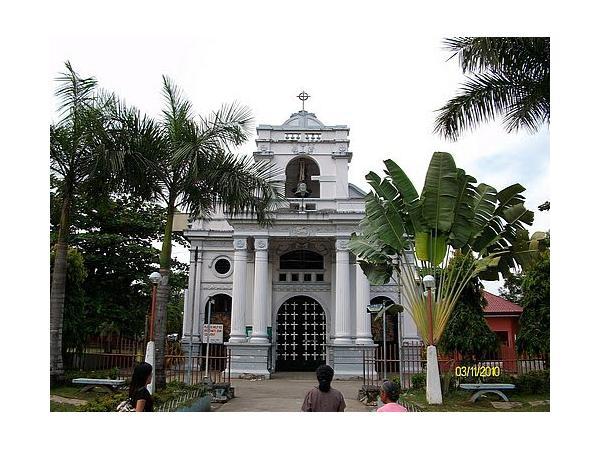 Source: RobbCee888, http://trip-suggest.com
Asturias, a 3rd municipality income class, is bounded by Balamban in the south, Danao in the east, Tuburan in the north and Tañon Strait in the west.
Continue reading...
Tourist Attractions North of Cebu: Things to Do in Borbon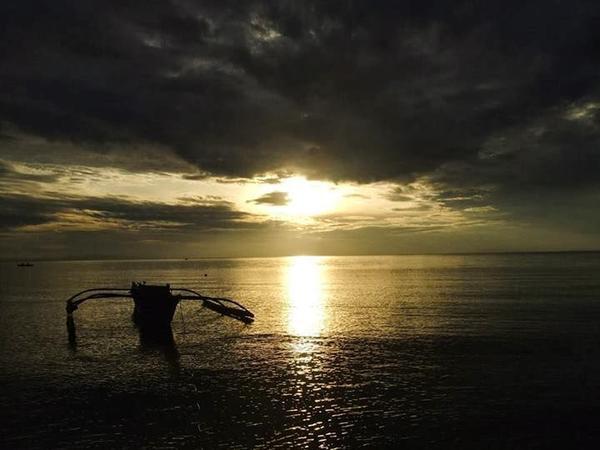 Source: Niniah Faith Montejo, http://borboncebu.blogspot.com/
Borbon, a town in northern Cebu, used to be a community extension of the town of Sogod. Borbon was established in September 15, 1862 same day the church and patron saint (St. Sebastian) became official.
Continue reading...
Tourist Attractions North of Cebu: Tourist Attractions in Carmen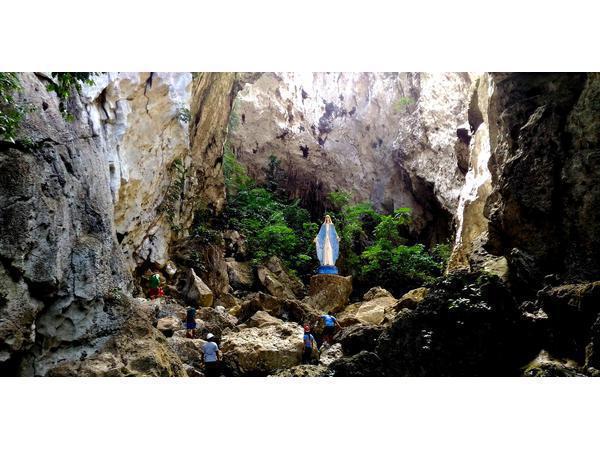 Source: Carmen - Our Cebu Hometown Facebook Page (VIRGIN MARY SHRINE at Lapus-Lapus Cave, Barangay Corte)
SHARE IT